These plump and delicious donuts have a sweet streusel topping, making them taste like little pumpkin coffee cakes.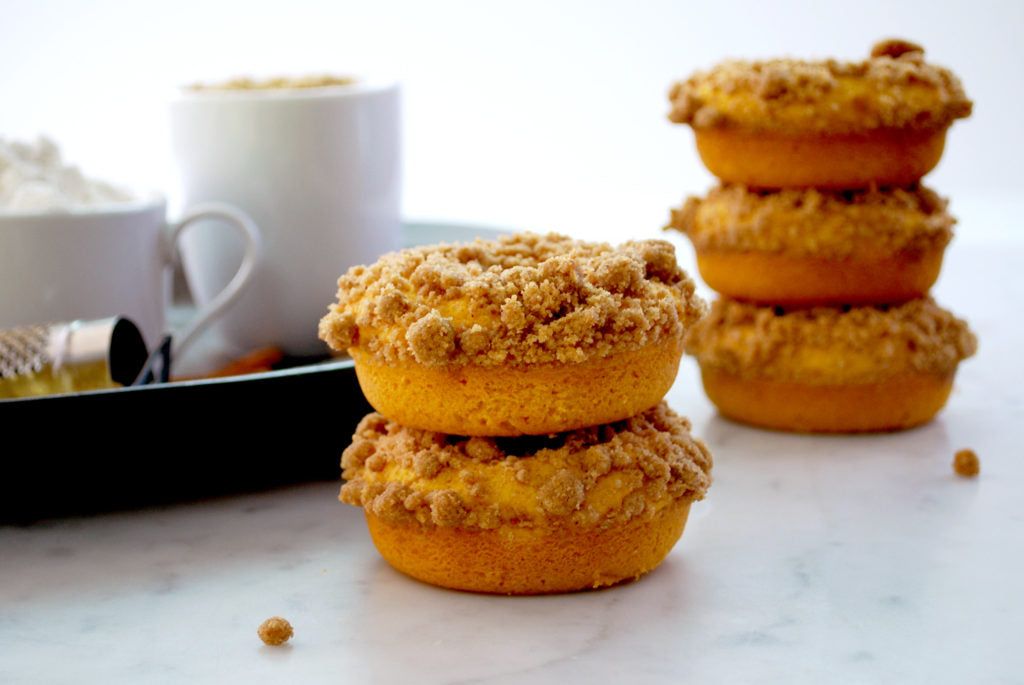 Yield:

FOR THE STREUSEL

½ cup packed brown sugar
1 teaspoon ground cinnamon
½ teaspoon nutmeg
¼ cup butter, melted

FOR THE DONUTS

1 (21 oz) bag Pamela's Vanilla Cake Mix
1 cup pumpkin puree
2 eggs, large
3 tablespoons butter, melted

FOR THE GLAZE

½ cup powdered sugar
1 to 2 teaspoons milk
¼ teaspoon vanilla
TO MAKE THE STREUSEL: In a small bowl, mix together All-Purpose Flour Artisan Blend, brown sugar, cinnamon, nutmeg, and butter. It will be crumbly. Set aside.

TO MAKE THE DONUTS: Preheat oven to 350° F. Spray donut pans with nonstick cooking spray.

In the bowl of an electric stand mixer with paddle attachment, mix Vanilla Cake Mix, pumpkin puree, eggs, and butter on low speed until smooth.

Fill donut pans with a few tablespoons of dough in each well, filling wells about one-half to two-thirds full. Sprinkle each donut with about one tablespoon streusel, pushing any streusel that falls onto pan back onto the dough.

Bake for 15 to 18 minutes; donuts should spring back to the touch, and be released from pan. Cool in pan for 5 minutes before gently moving to wire rack to finish cooling.

TO MAKE THE GLAZE: Combine powdered sugar, milk, and vanilla; whisk until smooth. Drizzle over the top of the donuts set on a wire rack over a piece of parchment paper to catch the drips.

NOTE: An easy way to fill the donut pans is to fill a pastry bag with the dough, and cut about ½-inch off the tip.

© Pamela's Products, Inc.