This recipe was created by Autumn at Whole Food for 7! Check out the original recipe on her website. Follow her on Instagram at @wholefoodfor7.
A cake roll is a fun twist on a classic cake without a lot of extra work. It's an easy option that is perfect for a special event and everyone is always impressed with the beautiful frosting swirl. Don't like mint? Use 1 teaspoon vanilla extract instead in the frosting.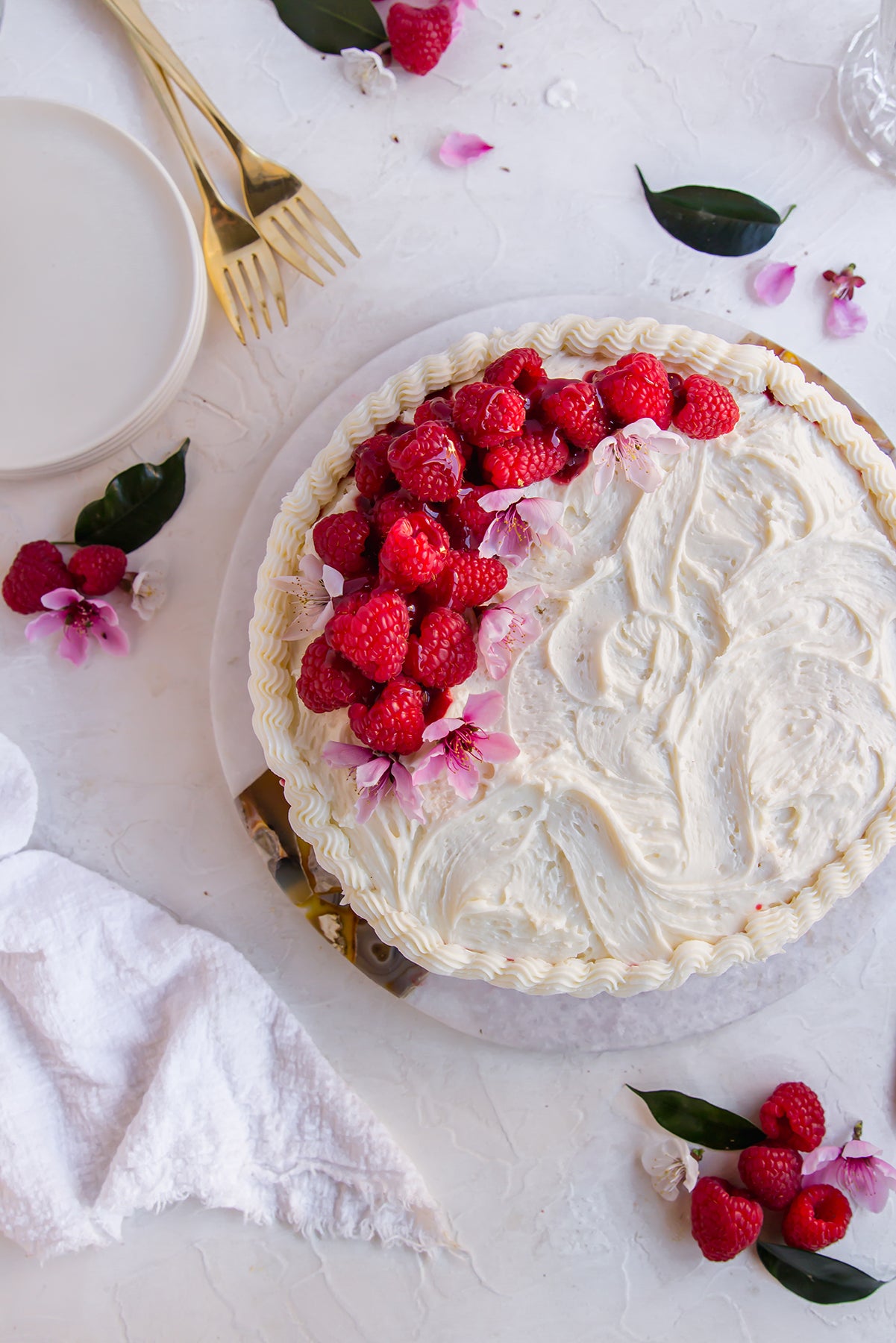 Yield:

FROSTING:

6 cups powdered sugar
¼ cup + 2 tablespoons soft ghee
¼ cup + 2 tablespoons almond milk, more if needed, or other dairy-free milk
2 teaspoons vanilla

RASPBERRY FILLING:

3 cups frozen or fresh raspberries
½ cup coconut sugar or other granulated sugar of choice
¼ cup water
3 tablespoons tapioca, arrowroot, or potato flour or starch
3 tablespoons water
1 12 oz package dairy-free white chocolate chips
1 ½ cups frosting
Fresh raspberries to top, if desired
Make cake mix per bag instructions in two 8" or 9" circle pans. Cool in pans for 5 minutes, then wrap well with saran wrap and freeze for at least 2 hours. This will help keep them moist and make them easier to frost.
While cake is baking, combine all frosting ingredients in a large mixing bowl. Mix with a mixer on low speed until combined and then high speed for 1 minute.
Make a raspberry sauce by combining raspberries, sugar, and water in a medium pot on the stove over medium heat. Cook for 5 minutes or until raspberries are tender and cooked through. In a small bowl, combine flour and water to make a slurry. Add slurry to raspberries, stirring continuously until raspberry sauce thickens.
Thirty minutes before you remove cakes from freezer, combine ½ cup of raspberry sauce with 1 ½ cups frosting. In a small pot on the stove over low heat stir white chocolate chips continuously until melted, about 2-3 minutes. Add melted chocolate chips to raspberry frosting combination. Cool in fridge for 20 minutes to thicken. Filling should be thick but spreadable.
Assemble the cake by placing one cake round on a plate or cake stand. Spread with white chocolate raspberry filling. Top with ½ cup raspberry sauce and the other cake round. Frost top and sides with remaining frosting and drizzle with remaining raspberry sauce as desired (on top, drizzled down the sides, or both!). Store in the fridge.
© Pamela's Products, Inc.
RECIPE NOTE
Note: You can use softened coconut oil instead of ghee.