Scary looking stew that's fun to serve on Halloween, or make anytime for a warm and yummy dinner.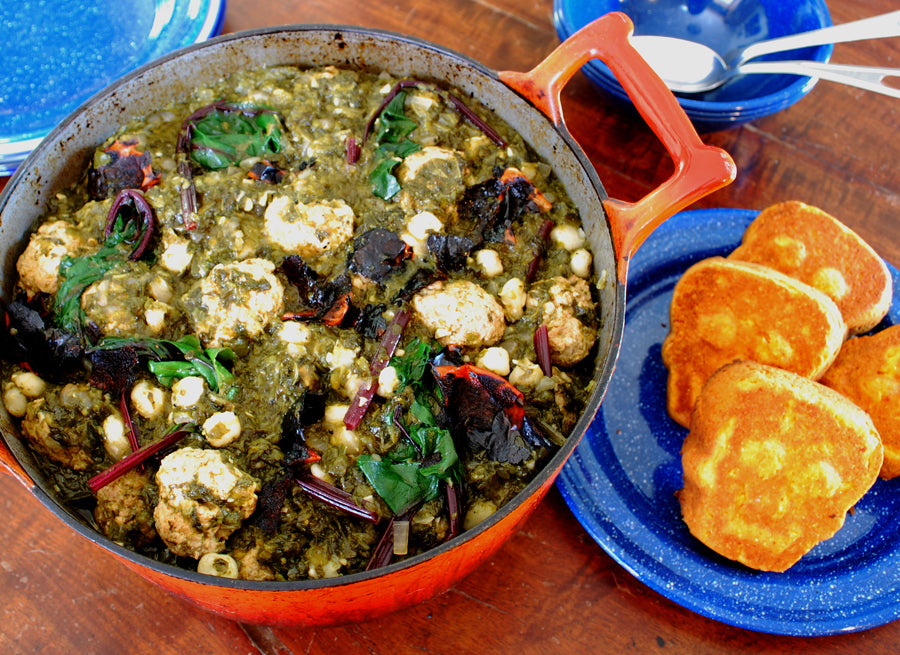 Yield:

1 1/2 lb. poblano chiles
1/4 cup olive oil
1 large white onion-finely chopped
1 1/2 tsp cumin
1 1/2 tsp coriander
5 lg garlic cloves-finely chopped
1 10 oz. frozen spinach, squeezed of moisture and chopped, or a bunch of fresh spinach
1 qt. chicken broth
Salt
1 slice of bread or 1/4 cup breadcrumbs made using Pamela's Gluten-Free Bread Mix
1/4 cup milk
1/2 ground chicken or turkey
1/2 lb ground pork
1 tsp ancho chile powder
1 15 oz. can white hominy-drained
2 TBSP chopped cilantro
Roast poblanos over flame of gas burner or broiler until charred all over. Place in brown bag for 15 minutes. Peel, stem and seed chiles, then puree in blender or food processor.

In large soup pot heat oil, add onion, cumin, coriander and 4 cloves garlic. Cook on low until onions are soft, around 8 to 10 minutes. Add the poblanos, cook for 5 minutes, then add spinach, broth and season with salt and pepper.

Mash in a bowl with milk, the slice of bread or bread crumbs. Add the ground chicken and pork, chile powder, remaining garlic and 1 tsp salt. Gently mix and form meatballs. Add to stew with the hominy and simmer until meatballs are cooked through, about 15 minutes. Serve with cilantro and Sweet Potato Cornbread.

Adapted from Food & Wine Magazine.