The flour blend of pecans, walnuts and coconut make these soft-baked gingerbread cookies a winning holiday recipe! Recipe and photo created by
My Whole Food Life
.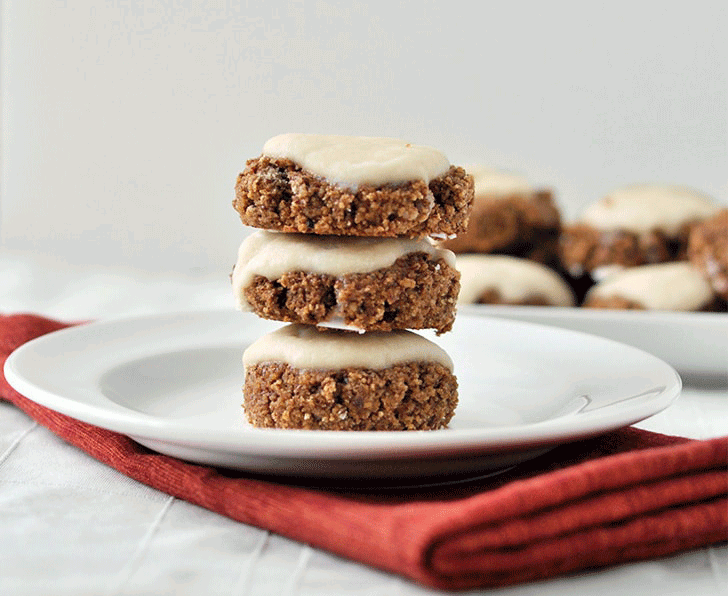 Yield:

For the cookies

1 3/4 cups Pamela's Nut Flour Blend
1 tsp cinnamon
1 tsp ginger
1 tsp baking powder
1/4 tsp nutmeg
pinch sea salt
2 flax eggs (for each egg equivalent, combine 1 tablespoon ground flax seeds combined with 3 tablespoons water -- let sit for 10 minutes before adding)
1/2 cup maple syrup
1 tsp vanilla extract
1/2 T molasses

For the icing

1 cup coconut butter
2-3 T maple syrup
1 tsp ground vanilla beans
almond milk
TO MAKE THE COOKIES:

Preheat oven to 350.

In a large bowl, add all the dry ingredients and mix together. In a small bowl, mix the wet ingredients together. Add wet ingredients to dry and stir to combine.

Use a cookie scoop to drop cookies onto a lined baking sheet.

Bake for 10 minutes.

Let cool completely.

TO MAKE THE ICING:

In a food processor, combine the coconut butter, maple syrup and vanilla beans. Then slowly add almond milk, 1 tablespoon at a time, until you reach a desired consistency.

When the cookies are cooled, spread the frosting on top and place in the fridge to set.

NOTE:

Keep these stored in the fridge for best results. This frosting will harden in the fridge, so it's highly recommended to frost right before serving. If you frost ahead of time, you will need to pull the cookies out of the fridge about 1 hour before serving to soften the frosting back up.