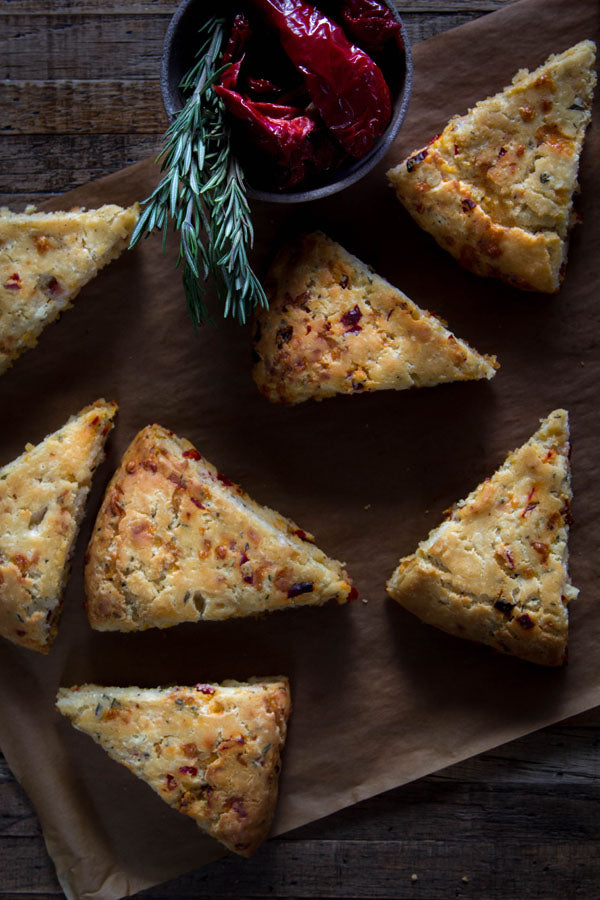 Yield:

8 tablespoons very cold salted butter, diced
salt and pepper to taste
1¼ cup + 3 tablespoons buttermilk, divided
¾ cup shredded white cheddar
½ cup sundried peppers or tomatoes (not oil packed), roughly chopped
1 tablespoon minced fresh rosemary
Place the rack in the top third of the oven and preheat to 375°F.

Combine the Pamela's Biscuit & Scone Mix, butter, a pinch of salt and a pinch of pepper in the bowl of a food processor fitted with the "S" blade. Pulse until the butter into the dry mix until pea-sized crumbs are formed.

Transfer to a mixing bowl and add the 1¼ cups of buttermilk, stir to incorporate. If the mixture still seems a bit dry add a teaspoon of the additional buttermilk at a time, stirring and folding after each addition until all of the dry mix is incorporated. Add the cheese, peppers or tomatoes, and rosemary. Fold until just incorporated.

On a parchment covered sheet pan, form the dough into a 1" to 1½" high round and cut into wedges. Brush the remaining buttermilk over the top. Bake for 25- 28 minutes until golden. Remove the pan to a wire rack to cool.