Enjoy savory and delicious bite sized mini treats. A great way to start off the day, add to brunch or serve as an appetizer. 2007 Recipe Contest Winning Recipe By Erin H.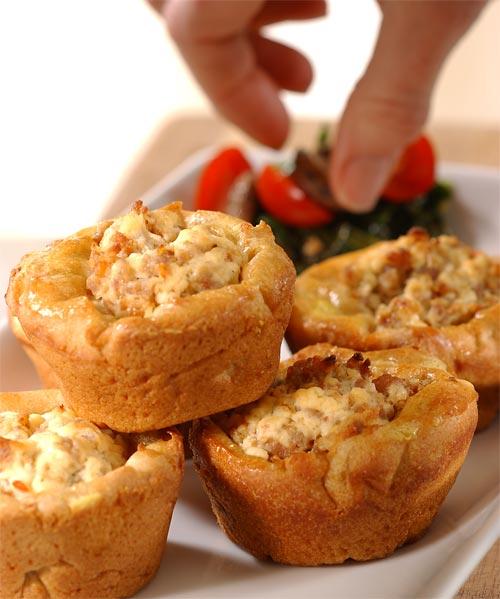 Yield: 24 (2-1/2 inch) rolls

1 bag (3-1/2 cups) Pamela's Gluten-Free Bread Mix (including yeast packet)
1/4 cup oil
2 large eggs
warm water (to equal 2 cups with the eggs and oil)
16 ounces medium-hot ground sausage
12 ounces cream cheese at room temperature
cooking spray
Preheat oven to 325°. Prepare Pamela's Gluten-Free Bread Mix (including yeast packet) according to package instruction for stand mixer preparation. Grease 24 muffin cups with cooking spray. Drop prepared bread dough, dividing equally, into prepared muffin cups. With oil on your fingers or the bottom of a shot glass dipped in water, press dough down and up the sides of each muffin cup. Set rolls aside to rest while preparing the filling (approximately 20 minutes).

Brown the sausage in a roomy skillet, crumbling well while cooking. Remove from heat, DO NOT DRAIN THE SAUSAGE. Add softened cream cheese to the sausage and stir well to combine. Divide the sausage mixture equally among the muffin cups.

Bake in preheated 325° oven for 25-30 minutes until lightly brown. Cool slightly in pan, then remove.

Chef's Notes: These sausage rolls may be frozen, well wrapped, for up to 3 months. Remove desired number from freezer and defrost in microwave for 2 minutes, then crisp up in the toaster oven. Also a fun breakfast, try serving with a poached egg on top!

© Pamela's Products, Inc.