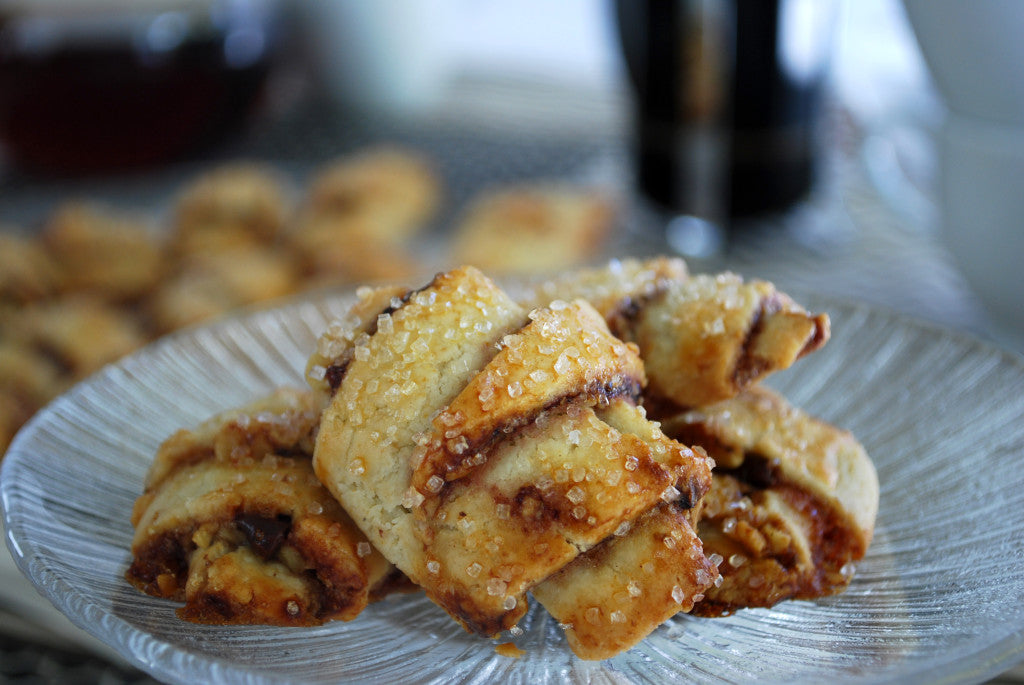 Yield: 32 cookies

FILLING

⅓ cup walnuts, chopped
3 TBSP white sugar
3 TBSP brown sugar
½ tsp cinnamon
½ cup seedless raspberry jam or seedless jam of choice
¼ cup mini chocolate chips (Optional)

COOKIE DOUGH:

½ cup butter, room temperature
4 oz. cream cheese, room temperature
1½ cup or 210 gr. Pamela's All-Purpose Flour Artisan Blend
¼ tsp salt
½ tsp baking powder
1 tsp vanilla
2 TBSP sugar
1 egg (Optional, for egg wash)
Sugar Crystals (Optional: to sprinkle on top before baking)
FILLING

Mix all ingredients (except jam & mini chocolate chips) together and set aside.

DOUGH

Put butter, vanilla and cream cheese in the bowl of a stand mixer, and cream together with the paddle.

In a small bowl whisk together flour, salt, baking powder and sugar. Add dry ingredients to creamed mixture and mix on low until dough comes together and wraps around the paddle, about 2 to 3 minutes.

Remove dough from bowl and divide in half. Cover or wrap half the dough while working with the other half. Pat dough into a disk on a large piece of parchment at least 12" wide, on the rolling surface. Cut another piece of parchment for the top. Roll thinner and thinner; flip over and peel back the paper, roll, flip and roll again, releasing from the parchment to allow the dough to grow, as you roll. Do this many times. You want the dough very thin and about a 12" circle. Peel the paper off the bottom and put a fresh piece on the bottom side of the dough. Remove the top piece. Be very gentle, so you don't press down on the dough.

Spread ¼ cup jam on the dough out to the edges. You can drop by teaspoons around the dough then gently brush it to cover the whole dough. Sprinkle half the filling all over the dough. Do not fill the center too full; it will be the point on your cookies. At the edge of the circle it is good to have a fair amount within a ¼" of the edge; it will help give the cookie height.

If using mini chocolate chips, now is the time to sprinkle the chips over the jam, but not in the middle. They are best if closer to the outside to help hold the shape, and easier to cut and roll.

CUT & ROLL

Now that everything is on the dough it is time to cut it. You are going to end up with 16 cookies per dough. Use a long straight knife or a rolling pizza cutter. Start by cutting the circle in half, then quarter turn and cut again to make 4 equal pieces. Then cut those in half, and so on, until you have sixteen 1½ to 2-inch pie shape pieces.

Place a piece of clean parchment on a sheet pan. The first two are a bit difficult, because they are so close together, but after those two it gets much easier. Start at the edge; roll it over onto itself, from edge to point. It may crack on the first roll, but should stay together after that. Place on parchment lined sheet pan leaving room between cookies. Use a metal spatula or off-set spatula to move; they are delicate. Do this with all 16 and refrigerate to get firm (or put in freezer if baking at another time). If dough gets too soft and hard to work, put in the refrigerator until it firms up a little, 10 minutes or so. Repeat with the second dough.

BAKE

Pre-heat oven to 350. Before cooking brush the cookies with egg wash; 1 egg yolk mixed with 1 TBSP. water, and sprinkle with large sugar crystals. This is not required but adds a nice texture and sweetness to the cookies. Bake cookies in the center of the oven for 23 to 27 minutes, until golden brown. Cool on a wire rack.

These cookies are best baked the day you make them, or freeze for baking another day. These cookies freeze beautifully; just thaw for 20 to 30 minutes before baking in preheated oven.

Store baked cookies in an airtight container with wax paper in-between the layers.

Chef's Note: Many times I change the flavor for the second batch. If someone is allergic to nuts, leave that out of the filling and use the mini chocolate chips. Be creative with your flavors, anything goes.

© Pamela's Products, Inc.