If you like Rocky Road Candy bars and Rocky Road Ice Cream, now you can have Rocky Road Brownies to add to your love of marshmallow and chocolate! Made with our Chocolate Brownie Mix.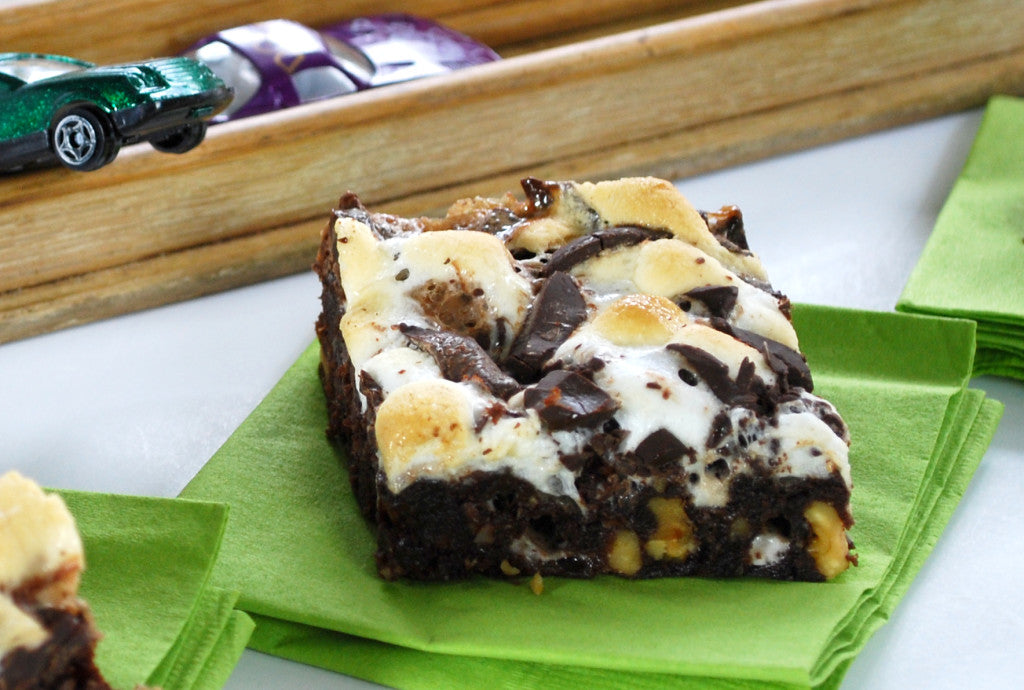 Yield: 8 x 8-inch or 9 x 9-inch square pan

1 16 oz. bag Pamela's Chocolate Brownie Mix (454 grams)
½ cup almond meal
1 egg, large
½ cup oil
¼ cup coffee or water
1 cup semi-sweet or bittersweet chocolate bar, chopped
1 cup walnuts, toasted and chopped
1 bag mini marshmallows, 10 oz.
Preheat oven to 350° with the rack in the center. Line an 8 x 8-inch or 9 x 9-inch square pan with parchment and spray well.

In a mixing bowl, whisk together Chocolate Brownie Mix and almond meal. In a large measuring cup, mix together oil, coffee, and egg. Add to dry ingredients and combine. Add walnuts and mix, then repeat with 1 cup mini marshmallows. Spread evenly in lined pan out to the edges (does not need to be smooth). Top with remaining marshmallows and press into batter lightly, and finally top with chopped chocolate.

Bake in preheated oven for 23 to 28 minutes, depending on size of pan. Brownies will puff a little all across the top. When this happens or it starts to fall, they are done. Cool on a rack until chocolate is totally cool and set up.

When cool, remove from pan with help of parchment. Peel the parchment off the brownies before cutting. Cut with a long straight edge knife that has been sprayed with non-stick spray. Press knife through the bar.

Store in air-tight container with wax paper in-between layers.

© Pamela's Products, Inc.