Using  a cup or small bowl and a microwave, you can make a delicious chocolate and berry dessert in a matter of minutes!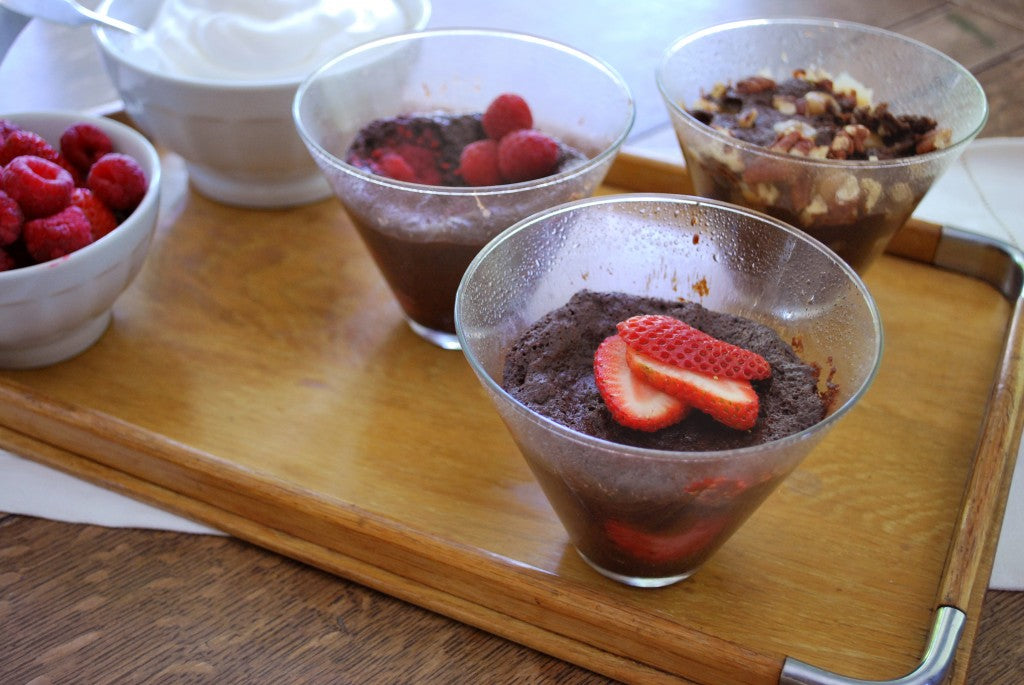 Yield:

Pamela's Chocolate Brownie Mix - use either a Single Serve packet, or 3/4 cup of brownie mix
2 TBSP vegetable oil
2 TBSP water
2 large strawberries-sliced, or 10 to 12 raspberries
non-stick spray
Mix brownie mix, water and oil in a small bowl, set aside.

Note: If using the Singe Serve packet, there are no chocolate chunks. If using the 16 oz. bag, there are chocolate chunks in the mix.

Spray cup well with non-stick spray. Drop 1/3 batter in the bottom of the cup, place some fruit along the sides (you can see the fruit through the glass if using glass). Put in some more brownie mix and repeat, until all batter is gone . Mostly cover top of fruit with batter if showing.

Save a little fruit to put on top when serving.

Place brownie in microwave and cook for 75 to 85 sec. If container has thin walls and bottom try the shorter time first. If container has thick walls try 80 to 85 seconds. They will be a bit gooey, but that is how they are supposed to be.

Serve warm with whipped cream and reserved fresh fruit.

© Pamela's Products, Inc.