This bread will surpass your greatest expectations—it is full of flavor, soft, and wonderfully spiced.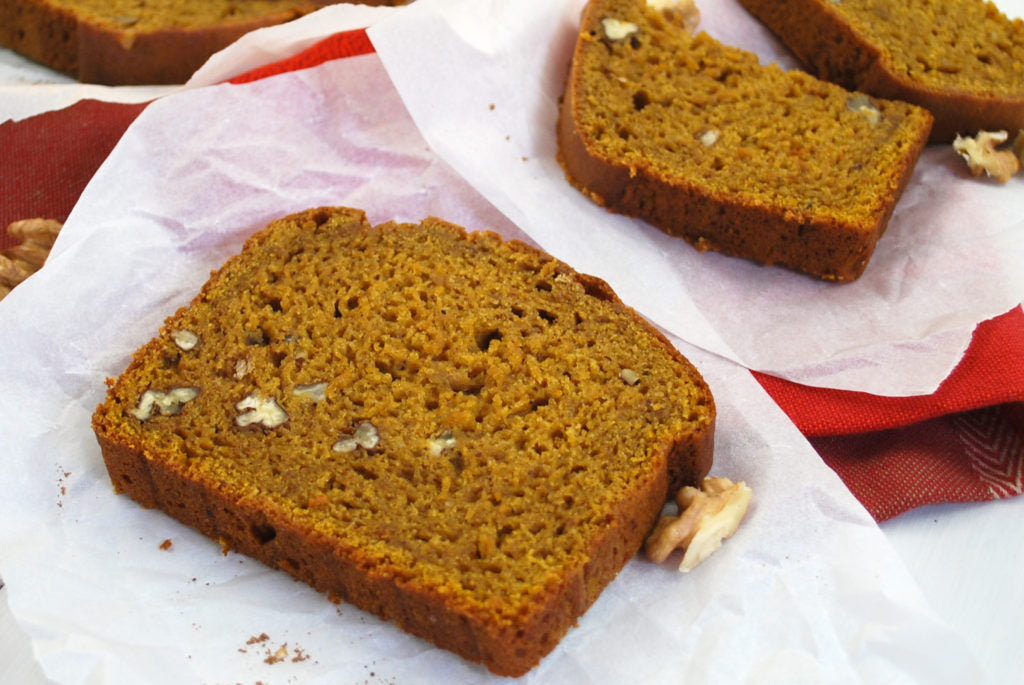 Yield:

1¾ cups (265 g) Pamela's Bread Mix
1 teaspoon salt
2½ teaspoons baking powder
3½ teaspoons pumpkin pie spice
2 eggs, large
3 tablespoons oil
1 cup sugar
2 teaspoons vanilla
1½ cups canned pumpkin
¾ cups nuts, chopped (optional)
Preheat oven to 350°, with rack in the middle of the oven. Spray an 8 x 4-inch loaf pan with nonstick cooking spray.

In a medium bowl, whisk together Bread Mix, salt, baking powder, and pumpkin pie spice; set aside. In the bowl of a stand mixer with paddle attachment, beat eggs until frothy. Add oil and beat until thickened. Mix in sugar and vanilla. Add pumpkin and stir to combine. Slowly add flour mixture and mix until well combined. Stir in nuts, if using.

Pour batter into sprayed loaf pan and spread evenly. Bake for 68 to 78 minutes, until bread just starts to pull away from sides of pan, top springs back when gently touched, and a toothpick inserted near the center comes out clean. Allow bread to rest in the pan for at least 10 minutes before removing it to a wire rack to cool completely before slicing.

NOTE: To use fresh pumpkin, steam pumpkin pieces until completely soft when pierced with a sharp knife. Cut off skin and process flesh in a food processor or squeeze flesh through a potato ricer; drain excess water if necessary before measuring.

© Pamela's Products, Inc.