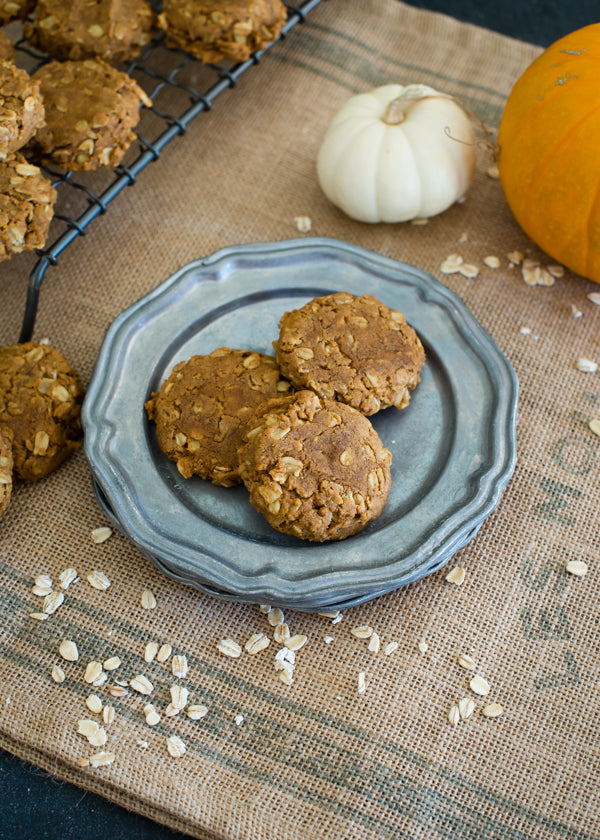 Yield:

1 cup dark brown sugar
½ cup coconut oil
½ cup pumpkin puree
¼ cup molasses
2 teaspoons pumpkin pie spice
1 teaspoons baking soda
1 teaspoons salt
2 cups gluten-free rolled oats
1½ cups chocolate chips or chopped dried fruit (optional, not pictured)
Preheat oven to 325°F. Line two or three rimmed baking sheets with parchment paper.

In a large mixing bowl, stir together brown sugar, coconut oil, pumpkin, and molasses until very smooth.

In another bowl, whisk together gluten-free flour, pumpkin pie spice, baking soda, and salt. Add half of the dry ingredients to the pumpkin mixture. Stir until combined. Add remaining dry ingredients and stir again until well-combined, making sure all of the flour is completely mixed in.

Stir in the gluten-free oats, one cup at a time, and mix well. If using chocolate chips or dried fruit, stir in last.

Use a small ice cream scoop or two spoons to drop tablespoons sized rounds of dough onto the prepared cookies sheets.

Bake for 15-18 minutes, rotating cookie sheets halfway through baking time, back to front and top to bottom. Let cookies cool on baking sheet for 10 minutes, then remove to a wire rack to finish cooling.