Party with friends with these delicious, cheesy treats. Great for game day, afternoon entertaining or any time!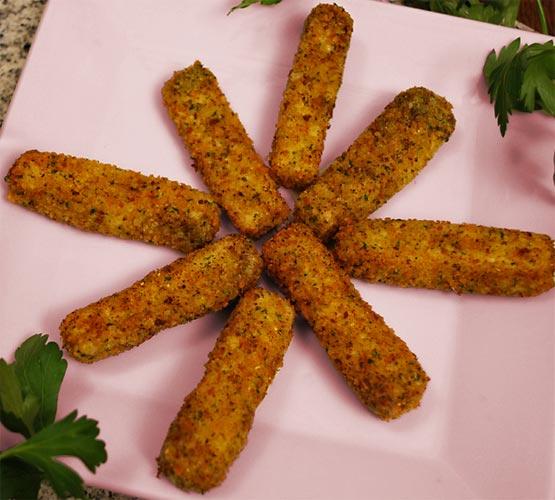 Yield:

1 lb Mozzarella cheese-square block preferred
2 eggs, beaten

Flour Coating

1/2 cup Pamela's Gluten-Free Bread Mix
2 tbsp cornmeal
1 tbsp cornstarch
1/4 tsp salt
1/2 tsp garlic powder
1/2 tsp baking soda
1/4 tsp yeast
1/4 tsp paprika

Breadcrumb Coating

8 tbsp Pamela's Amazing Bread, finely crumbed
2 tbsp Parmesan cheese
1 tbsp finely chopped parsley
Blend Flour Coating ingredients, set aside.

In another bowl, blend Breadcrumb Coating ingredients, set aside.

Cut mozzarella into approx. 1/4-inch x 1/4-inch x 4-inch pieces, or any shape you prefer. Dredge in egg, flour coating, egg again and then the breadcrumbs coating. Chill for at least 1 hour. Fry in small batches in 1/2-inch oil, turning until a golden crust forms and cheese just starts to melt and pieces become soft. Drain well on paper towels and serve with your favorite Marinara sauce.

© Pamela's Products, Inc.