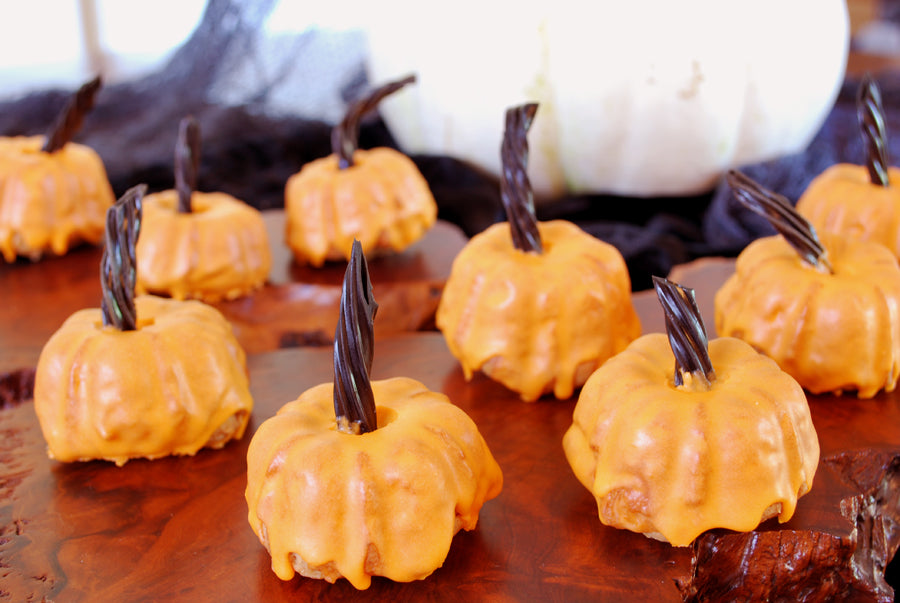 Yield:

CAKE:

1 1/2 tsp pumpkin pie spice
1/2 tsp baking powder
1/4 tsp soda
1/4 tsp salt
1/3 cup unsalted butter
1/2 cup sugar
1 lg egg
1 tsp vanilla
1/2 cup sour cream

GLAZE

1 1/2 c. powdered sugar
2 TBSP unsalted butter-melted
2 TBSP water
orange food coloring
licorice twists for stems – we like Candy Tree Gluten Free Organic Licorice Twists. Remember, many licorice products contain gluten so be sure to check the ingredients in advance.
Preheat to 350°. Spray pans.

Mix first 5 ingredients. Beat butter with sugar until fluffy. Beat in egg and vanilla. Add dry ingredients and sour cream alternately in two batches. Bake in center of oven for 25 minutes in mini-Bundt pan.

When cool, dip pumpkins into glaze and coat completely.

Recipe adapted from Food & Wine Magazine.