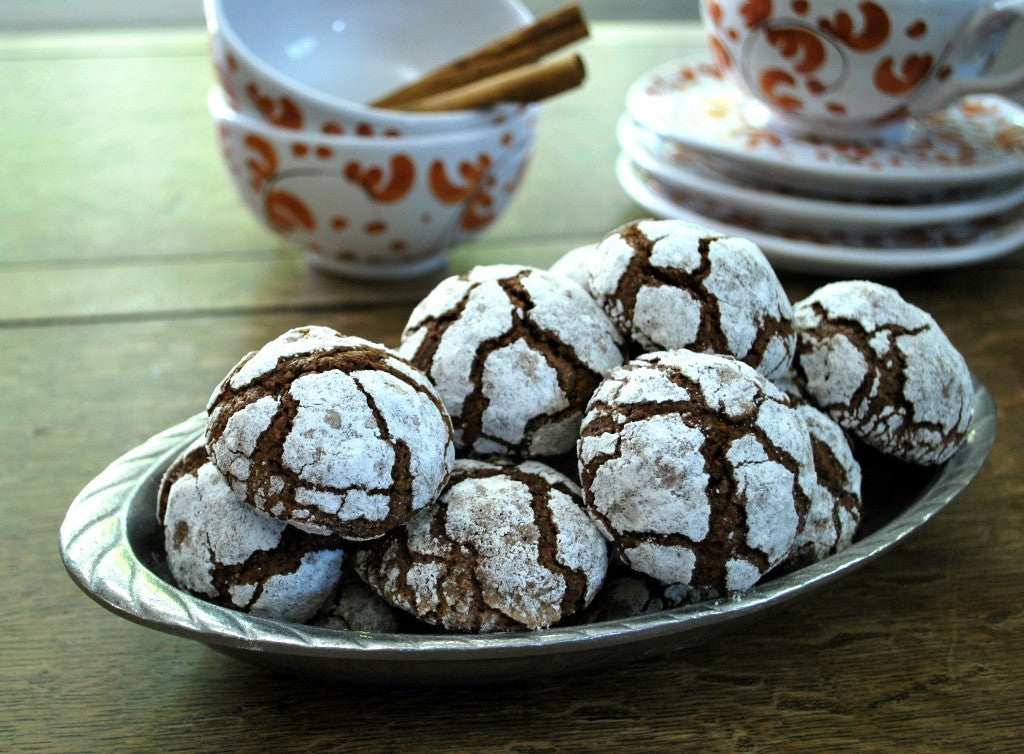 Yield:

FOR THE DOUGH

8 ounces bittersweet chocolate
4 ounces Mexican chocolate
4 tablespoons butter
¼ cup black coffee
2 teaspoons cinnamon
1 teaspoon cayenne
1 teaspoon chili powder
1 cup plus 2 tablespoons almond meal
¾ teaspoon baking powder
¼ teaspoon salt
3 eggs, large
½ cup sugar

FOR THE TOPPING

½ cup granulated sugar
⅔ cup powdered sugar
Melt the chocolates and butter together over low heat, preferably in a double boiler. Add coffee and spices, mix well, then cool. In a small bowl combine almond meal, All-Purpose Flour Artisan Blend, baking powder, and salt, and mix well. In the bowl of a stand mixer with paddle attachment, beat eggs and ½ cup sugar 5 to 6 minutes, until thick and foamy. Add melted chocolate mixture and mix well. Add flour mixture and mix until well combined. Cover with plastic and chill at least three hours or until ready to bake.

Preheat oven to 350°. Scoop dough into large tablespoon-size balls, roll in granulated sugar, then roll in the powdered sugar. Bake on parchment-lined cookie sheets, spacing at least 1½ inches apart, for 14 to 16 minutes. Your cookies should be dome-shaped with visible crack lines through the powdered sugar.

NOTE: These cookies are really delicious warm out of the oven.

Recipe adapted from spoonforkbacon.com.

© Pamela's Products, Inc.