Party with friends with these delicious, spicy treats!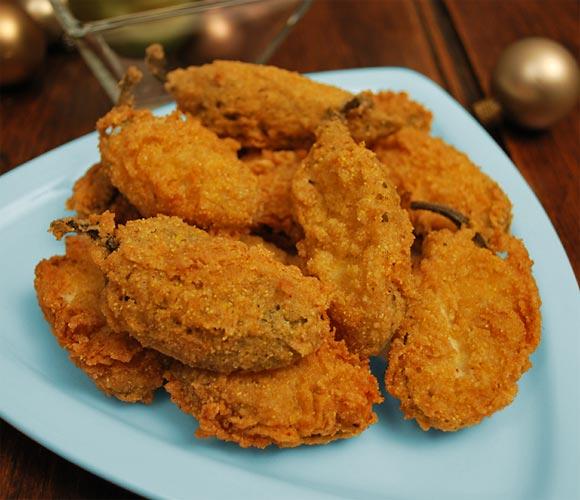 Yield:

Poppers

1 can whole jalapeno peppers - 27 oz.*
5 oz. crumbled Gorgonzola cheese
4 oz. cream cheese
1 tsp finely chopped red bell pepper

Coating

1/2 cup Pamela's Gluten-Free Bread Mix
2 tbsp cornmeal
1 tbsp cornstarch
1/4 tsp salt
1/2 tsp garlic powder
1/2 tsp baking soda
1/4 tsp yeast
1/4 tsp paprika
1 pint buttermilk
Mix Gorgonzola cheese, cream cheese and bell pepper until smooth. In a separate bowl, blend dry coating ingredients and set aside.

Cut jalapeño peppers in half, leaving one half with the stem if possible. Remove seeds and membranes. Spoon cheese filling into the peppers, allowing filling to mound up slightly. Gently roll in dry coating mixture, dip in a small tumbler of buttermilk, and roll in coating one more time.Using a high sided pan, heat cooking oil to 300° and cook in small batches until golden.

Drain well (newspapers work well) and serve immediately.

*Chef's Note: By using canned jalapeño peppers the pepper is cooked so you only have to fry the poppers long enough to melt the cheese and crisp the coating. I tried using fresh jalapeño peppers: first fire roasting on a gas stove, then carefully removing the skins and then trying to stuff these very delicate peppers, that somehow had shrunk to 1/2 their former size. I found the canned variety to be easier to work with. Ideally, find peppers with minimal pickling, or less pickle flavor than a fully pickled pepper.

© Pamela's Products, Inc.