Flatbreads can be served at any meal and topping options are endless! Use this basic recipe and see all of our topping suggestions.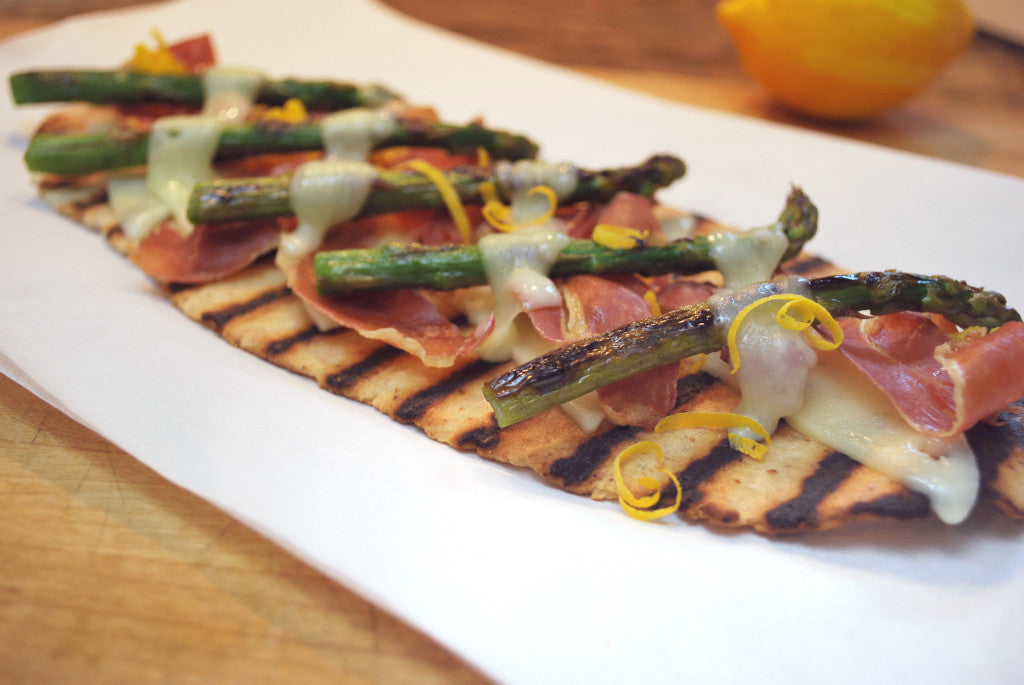 Yield: 8 to 12 individual flatbreads (can be cut into strips for an appetizer)

3-1/2 cups Pamela's Bread Mix (1 19oz. bag) (Note: This can also be made with Pamela's Baking and Pancake Mix, though they are a little more fragile and less flexible than those made with Pamela's Bread Mix)
2-1/4 teaspoons active dry yeast (1 packet)
3 TBSPS olive oil
1-1/2 cups warm water
extra olive oil for brushing
Prepare dough:

In a stand mixer with the paddle attachment, combine Bread Mix, yeast, oil, and water, until thoroughly combined. On oiled sheet of parchment paper, divide dough into 8 to 12 balls. Allow to rest one hour, draped loosely with plastic wrap.

Prepare toppings:

See topping suggestions below.

Flatten and cook flatbread:

Heat a grill pan over medium to high heat. (If you don't have a grill pan, you can use a heavy-duty skillet, but you won't get the grill marks or the flavor of the blackened areas.)

Generously oil individual pieces of parchment to help dough release from parchment for grilling. Pat out or roll each ball of dough into an oblong shape (1/8 to 1/4 inch thick). Brush tops with olive oil.

Working in batches of 1 or 2 (depending on size of grill pan and the flatbread) lay them diagonally across the grates of the grill pan. Let cook on one side about 2 minutes, until edges of flatbread appear firm, and good color stripes can be seen on underside. Turn flatbread with spatula or tongs, turning 1/4 turn for great diamond shapes, and cook for another two minutes. Remove flatbread to a cooling rack. Repeat with remaining flatbread.

Assemble flatbread:

Put your toppings on the flatbread and serve immediately.

If flatbreads are allowed to cool completely, they can also serve as lunch or picnic fare by wrapping each flatbread tightly in foil to transport. Freeze extra flatbreads.

Chef's Note: To give even more flavor to your flatbread add 1 TBSP fresh minced herbs or use flavored oil, like garlic or lemon oil to brush flatbread before grilling.

TOPPING SUGGESTIONS

Grilled Veggies and Balsamic Vinaigrette and Basil Chiffonade

Ingredients:

zucchini

eggplant

onion

red peppers

broccoli

cauliflower

olive oil

balsamic vinaigrette (store bought into squirt bottle)

fresh basil-cut in fine strips

Instructions:

Roast your favorite veggies like red peppers, broccoli and cauliflower in a hot oven on parchment brushed with olive oil until browned on one side and just cooked through. Grill eggplant and zucchini in grill pan before grilling the flatbread. (Cut eggplant and zucchini in thin slices and cut broccoli and cauliflower into small florets.)

Caramelized Onion, Roasted Red Peppers & Brie

Ingredients:

onions

red peppers

Brie or Camembert cheese

Instructions:

Cut onions into small sections, leaving very small sections attached, and roast in hot oven on parchment brushed with olive oil until browned a little, translucent and limp. Cut pepper in quarters and roast on parchment until soft and blackened in spots. Cut into small strips.

Carefully peel the 'coat' off the cheese and cut into strips laying diagonally across the flatbread. Add onions and peppers and heat in 400 degree oven or toaster oven for a few minutes until cheese is melted.

Roast Beets with Blue Cheese and Walnuts

Ingredients:

beets

blue cheese crumbles

walnuts

salad greens- arugala, mache, frisee or your favorite greens

salad dressing

Instructions:

Roast beets in hot oven until cooked through. Cool, skin and slice thin. Arrange on flatbread starting with the greens, beets, cheese crumbles, walnuts and a drizzle of your favorite salad dressing.

Grilled Asparagus, Proscuitto and Havarti

Ingredients:

asparagus

proscuitto

havarti cheese-sliced thin

optional-lemon zest

Instructions:

Roast asparagus in pan on the stovetop: Wash and trim, then with a little water still remaining on the stalks, place in hot pan and top with tight lid. Let steam until water evaporates and the asparagus starts to brown in the pan, just a few minutes. Remove lid, turn and cook the other side for about 2 minutes, watching to make sure they don't overcook.

Crisp the proscuitto by heating in a non-stick pan until it gets fragrant and crispy.

Arrange cheese, proscuitto and asparagus on flatbread and heat just until cheese melts.

Smoked Salmon and Cream Cheese with Capers and Onions

Ingredients:

smoked salmon

cream cheese-whipped is easier to spread

capers

red onion-sliced very thin

optional-a sprinkle of lemon zest or lemon thyme

Instructions:

Spread cream cheese, add salmon, capers and onions.

Three Mushroom

Ingredients:

mushrooms

butter

thyme

parsley

salt and pepper

Instructions:

Saute mushrooms in butter until well browned, season and enjoy.

Chef's Note: Do NOT crowd the mushrooms while browning them or they will steam rather than brown.

Pizza Style

Ingredients:

salami or pepperoni

mushrooms

mozzarella cheese

red pizza sauce

optional-a sprinkle of fresh basil

Cover with the red sauce, then add your favorite pizza goodies. Heat in 400 degree oven or toaster oven just until cheese melts.

© Pamela's Products, Inc.