These are a fun, easy and delicious way to celebrate the graduate!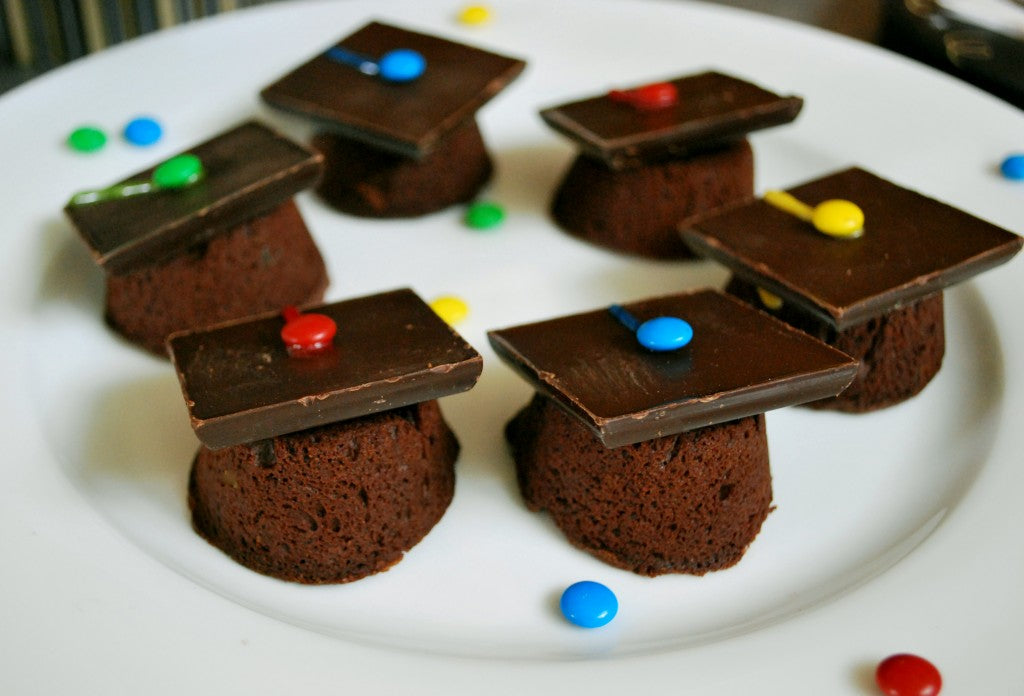 Yield: 24 graduation caps

1 bag Pamela's Chocolate Brownie Mix (16 oz.)
24 chocolate squares (such as Ghirardelli)
Colored frosting made with Vanilla Frosting Mix, or pre-made frosting gels (like Wilton brand sparkle gels)
Colored mini M&Ms or other similarly-shaped candy -- you may want to choose the school colors if you can find them
Prepare any of the following brownie recipes for Pamela's Chocolate Brownie Mix: Irresistible Brownies, Fudgiest Brownies, Oil-Free Butter-Free Brownies, Cake-Like Brownies, Irresistible Brownies with Butter, Ultra Rich Brownies, or Egg-Free Cake-Like Brownies.

Bake in mini muffin pans, making sure you fill cups enough so they will be full when you cut them off at pan level. Bake and cool. You will be turning the mini brownies upside down to make the hats, so cut the tops of the brownies to make the bottoms flat (trim off everything above the pan line). If you want, you can also trim a little off the back of the hat so the chocolate square cap will have a little tilt when you glue on the chocolate square.

Using Pamela's Vanilla Frosting or sparkle gel, "glue" the chocolate square cap onto the brownie. When completely dry, draw the tassel with frosting from the center of the chocolate to the edge. Press a mini M&M into the center.

© Pamela's Products, Inc.