Create a gluten-free monster with this fun Frankenstein Toast! It's a tasty, healthy snack that doubles as a creative activity. Recipe + photo by Pinch My Salt.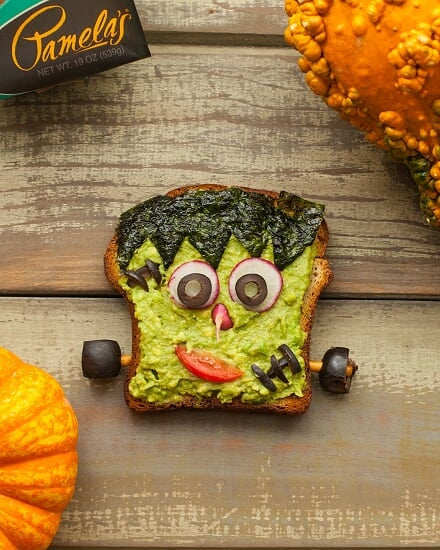 Yield:

FOR EACH MONSTER

1 slice of Pamela's Bread Mix, toasted
3 tablespoons guacamole or mashed avocado
4 black olives (eyes, neck bolts and stitches)
1 radish (eyes and nose)
1 grape tomato (mouth)
2 gluten-free pretzel sticks (neck bolts)
Toasted seaweed, chopped olives or raisins (hair)
Spread the guacamole evenly over the toast.

Slice the radish so the tip is available for the nose, and cut two rounds for the base of the eyes. Cut one of the olives in half to complete the eyes.

Stick the pretzels into either side of the toast, and add an olive to each pretzel to make the bolts (it's a little more realistic if you trip the edges of the olives.) Cut the remaining olive into strips to make the stitches.

Slice a wedge lengthwise from the tomato for the mouth. Trim a seaweed sheet to resemble hair and place it on top, or use chopped olives or raisins. Enjoy your monster!