Delightfully easy, enjoy with fresh berries!
2008 Recipe Contest Runner Up Recipe by Shirley R.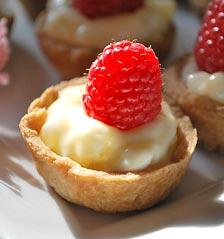 Yield:

1 bag (3-1/2 cups) Pamela's Gluten-Free Bread Mix
2 sticks unsalted butter, chilled (or shortening for non-dairy)
8 tbsp ice cold water
22 oz container gluten-free tapioca pudding
raspberries, blueberries, blackberries or strawberries
24 mini baking cups
Preheat oven to 345°. Line mini muffin pan with mini baking cups. Crust: In a bowl, cut chilled butter and shortening (cut into smaller chunks) into Pamela's Gluten-Free Bread Mix with two knives or a pastry knife until small pea sized pieces form. Slowly add water until dough comes together, not sticky. Add 1 tsp additional water if dough is too dry. Chill for 30 minutes. Divide dough in half and pat small pieces of dough using the palms of your hands until about 1/8-inch thick. Cut into 2-inch diameter circles (using a 2-inch diameter shot glass works well). Place each circle into a baking cup making sure the dough reaches the sides of the cup. Before baking pierce each Tart Crust with a fork. Bake for 15 minutes. Cool completely. Fill each cup generously with tapioca pudding. Then place washed and dried berries on top of each tart and refrigerate until ready to enjoy.

© Pamela's Products, Inc.