You will love the heat and the spice with strong molasses notes.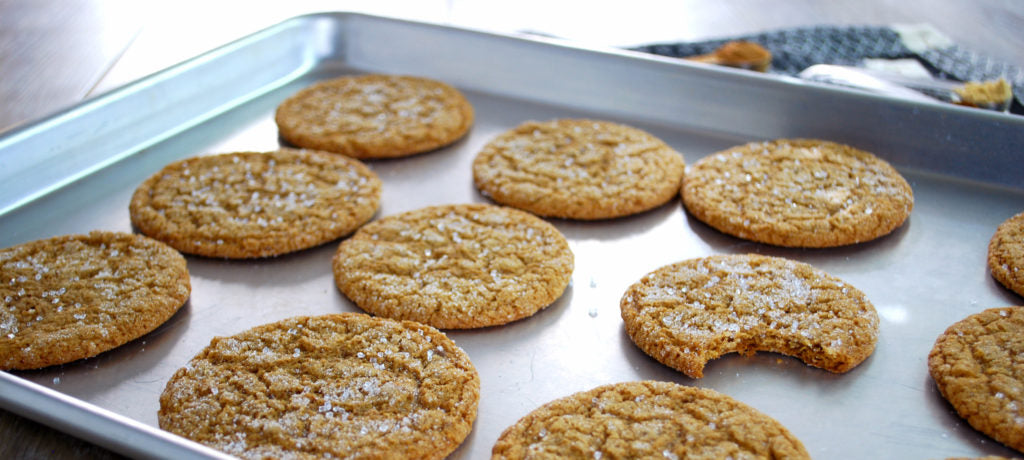 Yield:

2 cups (280 g) Pamela's All-Purpose Flour Artisan Blend
1 teaspoon baking soda
½ teaspoon salt
1 teaspoon ground cinnamon
2 teaspoons ground ginger
½ teaspoon ground cloves
½ cup finely chopped crystallized ginger
½ cup (1 stick) butter
1 cup sugar
1 egg, large
½ cup molasses
Coarse sugar crystals for rolling cookies
Place rack in center of oven and preheat to 350°. Line three 12 x 18-inch cookie sheets with parchment paper. In a medium bowl, whisk together flour, baking soda, salt, spices, and crystallized ginger. Set aside.

In large bowl of an electric stand mixer with paddle attachment, beat butter and sugar until creamy. Add egg and molasses and mix well. Add in flour mixture, mixing well. Cover and refrigerate for 30 minutes to help set up dough.

Place coarse sugar crystals in shallow bowl. Scoop a tablespoon of dough between palms and roll to form ball. Gently roll ball in sugar crystals and then place onto lined sheet pan, 12 cookies per pan, 2 inches apart. Do this with all the dough. Bake 12 to 14 minutes, until golden brown and centers are soft.

Let cool completely on parchment before removing from paper. Store in an airtight container.

© Pamela's Products, Inc.