Big, puffy, buttery biscuits loaded with freshly grated cheddar cheese, garlic, parsley, and seafood seasoning. Recipe and photo created by
One Sweet Mess
.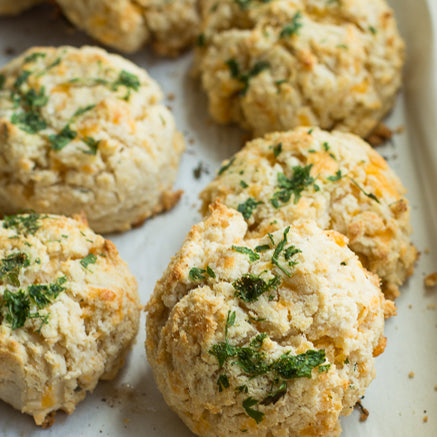 Yield: 10 biscuits

FOR THE BISCUITS

1 (13-ounce) package Pamela's Biscuit & Scone Mix
1½ teaspoons garlic powder
2 teaspoons sugar
½ teaspoon seafood seasoning
⅛ teaspoon cayenne pepper
3 tablespoons fresh chives, chopped
¼ teaspoon kosher salt
1 heaping cup grated cheddar cheese
½ cup unsalted butter, melted and slightly cooled
1 cup buttermilk

FOR THE TOPPING:

2 tablespoons unsalted butter, melted
¼ cup chopped parsley
½ teaspoon garlic powder
Preheat oven to 450˚. Line a baking sheet with parchment.

In a large bowl, add Pamela's Biscuit & Scone Mix, garlic powder, sugar, seafood seasoning, cayenne pepper, chives, and kosher salt. Stir to combine. Fold in the cheddar cheese.

Create a well in the dry ingredients. Pour the melted butter and buttermilk in the center of the well and stir until combined, making sure that you don't over mix.

Using a 1/4-cup cookie scoop, drop the dough onto the prepared sheet, spacing the biscuits 3 inches apart. Brush the tops of the biscuit dough with melted butter. Sprinkle each biscuit with parsley and garlic powder.

Bake for 15 minutes, or until the crust is a light golden brown. Serve immediately.