Delicious and cheesy, these are an elegant addition to your table, and the kids will love them too!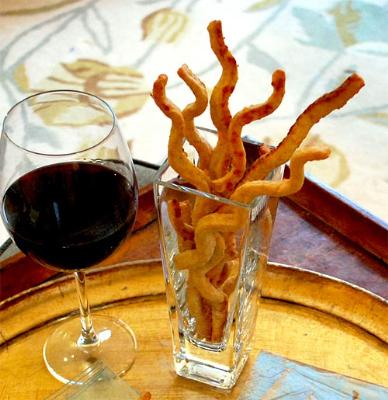 Yield:

Dry ingredients

3/4 cup Pamela's Gluten-Free Bread Mix
1/2 tsp sea salt
1/4 tsp paprika
1/8 tsp cayenne or black pepper

Wet ingredients

4 tbsp cubed, chilled butter
1 cup grated sharp cheddar cheese
1 egg
1 tsp ice water
Mix dry ingredients, then add butter and cheese, just mixing until pea sized pieces form. Add egg to water, mix well, then add to dry ingredients, mixing until a dough forms. Add a little more water only if dough will not form without it. Divide dough in half, forming into 2 disks, wrap in plastic, and chill for at least one hour.

Roll out dough between plastic and parchment to about 1/8-inch thick. Cut using a straight edge into 1/4-inch to 3/8-inch strips. Transfer parchment onto half sheet pan. Carefully stand the strips on their thin sides and form them into waves (Chef's note: Though traditionally twisted to form straws, we made waves with ours).

Bake at 400° for 10 to 12 minutes, until just starting to color. Remove pan from oven and place on cooling rack. Allow Cheese Straws to cool before serving.

Chef's Note: A fun way to serve the Cheese Straws is to stand them on end in a heavy glass, like bread sticks.

© Pamela's Products, Inc.