This stuffing combines bread and cornbread for a delicious addition to your holiday meal. Made with Pamela's Bread Mix and Cornbread & Muffin Mix.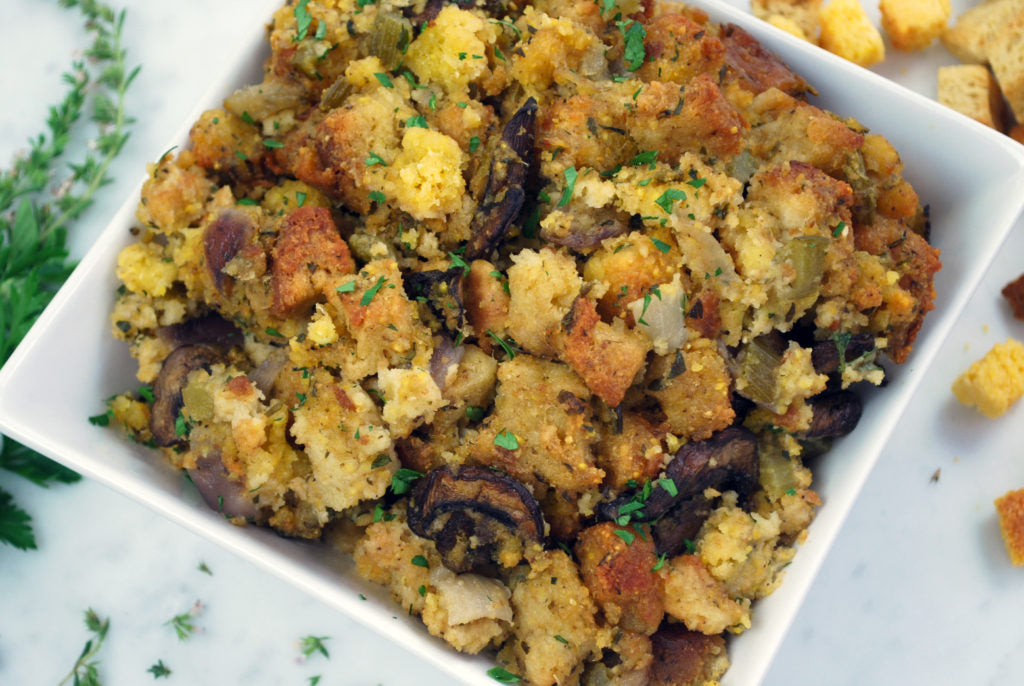 Yield: 10 servings

8 to 9 cups total Pamela's Bread cut into 1" cubes and allowed to dry*
1 cup butter or butter substitute
1 large diced onion
4 diced celery ribs
1 tsp salt
½ tsp pepper
pinch of cayenne
8 oz. sliced fresh brown mushrooms—optional
2 TBSP fresh sage, finely minced
1 TBSP fresh parsley, finely minced
1 TBSP fresh savory (or fresh thyme), finely minced
1 TBSP fresh oregano (or other favorite, like rosemary or tarragon), finely minced
1 ½ to 2 cups veggie or chicken broth
2 eggs, lightly mixed—optional
Chef's Note: If using dried herbs use 1/3 to 1/2 the amount specified.
Melt butter in large pan; add vegetables and herbs, and sauté until limp. Toss cornbread and bread cubes with vegetable/herb mixture, eggs and broth. Mix well without breaking up the cubes too much.

Bake in buttered 8 x 8-inch or 8.5 x 11-inch pan, covered with foil at 350° for 45 minutes. Take off the foil for the last 15 minutes to allow top to brown and make a nice crust on top.

*9 cups equals approximately 8 Pamela's corn muffins or pieces of cornbread and 1/2 loaf of Pamela's bread.

© Pamela's Products, Inc.