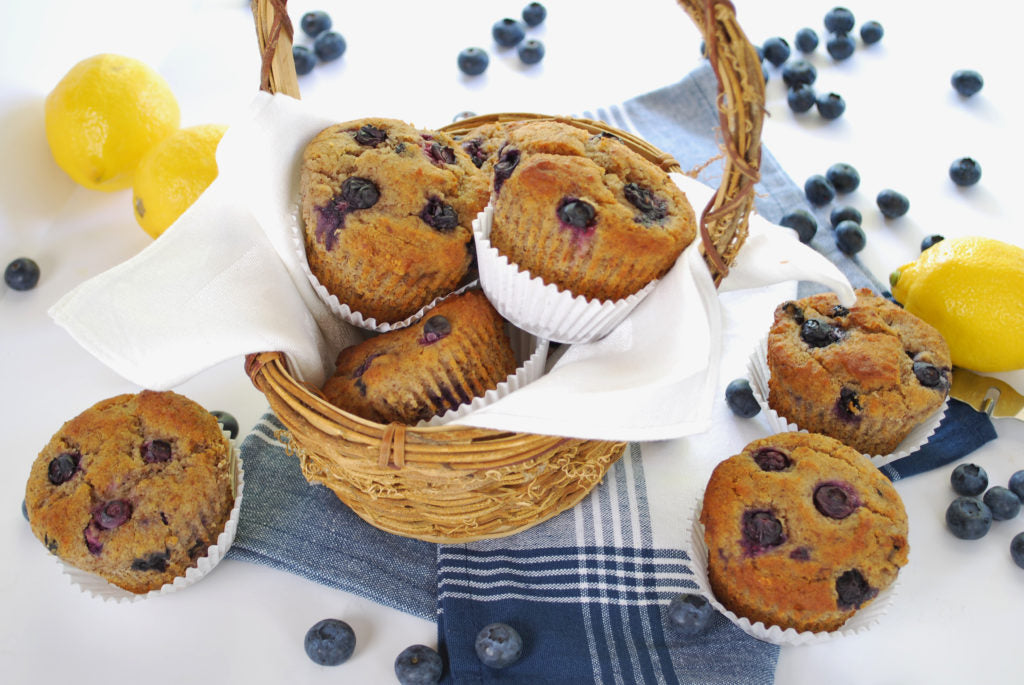 Yield:

1¼ cups ¾ cup Pamela's All-Purpose Flour Artisan Blend (105 gr.)
1 TBSP baking powder
½ tsp salt
2 eggs, large
1 cup milk, or other liquid of choice
¾ cup sugar, brown, white or coconut sugar
½ cup oil or butter, melted
1 tsp vanilla
¼ tsp nutmeg (Optional)
¾ cup blueberries (keep some to sprinkle on top of muffins)
zest of 1 lemon or ½ tsp. lemon extract
Preheat oven to 400° with rack in the center of oven. Line a 12 cup muffin tin with cupcake papers and spray well. Set aside.

In a medium bowl, whisk together all dry ingredients. In a larger bowl, zest the lemon, add all liquid ingredients, except fruit, and mix well. Add dry ingredients to wet ingredients and mix only until blended. Gently fold in fruit.

Scoop into muffin cups and bake for 18 to 25 minutes or until center is firm to the touch (toothpick test does not work).

These keep nicely until the next day, if covered. Great for lunch boxes or wrap and freeze for later use. Thaw and eat or warm in a microwave for about 15 seconds.

Chef's Note: Use ¼ cup dried blueberries with ½ cup fresh if your fresh blueberries are very large.

© Pamela's Products, Inc.