This gluten free blueberry goat cheese focaccia is the perfect balance between sweet and savory. Plus it's a great way to use all those summer blueberries. Photo and recipe courtesy of Nutmeg Nanny.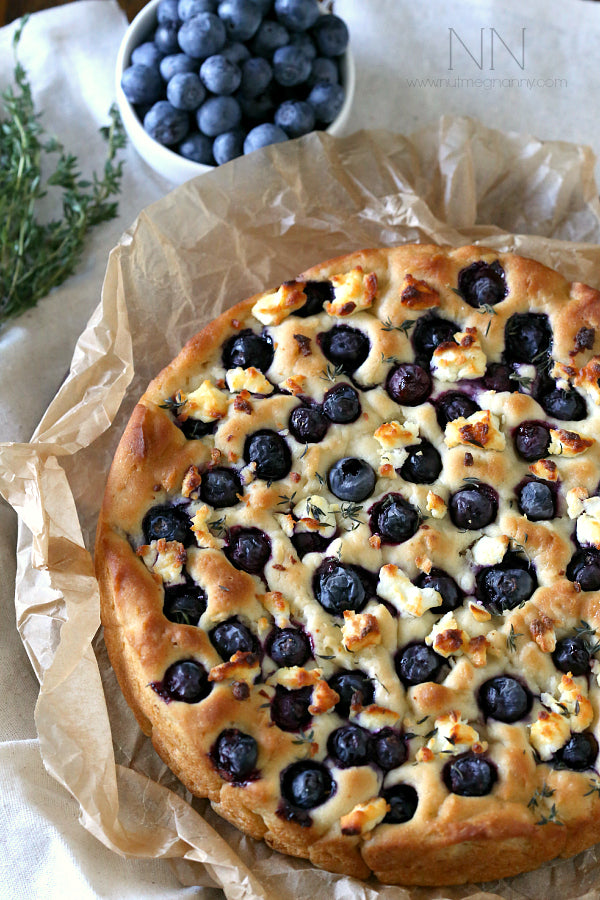 Yield: 9 inch pan

1 yeast packet (included in 19 oz. bread mix)
1 teaspoon sugar
1-3/4 cup warm water
1 (19 ounce) bag Pamela's Bread Mix
1/4 cup olive oil
1/3 cup fresh blueberries
1/3 cup crumbled goat cheese
2 teaspoons fresh thyme leaves
Spray a 9 inch cake pan with non-stick spray, set aside.

In a large mixing bowl add yeast packet, sugar, and 1/4 cup warm water. Let sit for 5 minutes until you see foam on the top of the water.

Add olive oil, remaining 1-1/2 cups warm water, and Pamela's Gluten-Free Bread Mix. Mix for three minutes.

Sprinkle top of dough with olive oil to help spread it in the pan. Cover the dough and let rise in a warm area for 1 hour.

Once the dough has risen preheat the oven to 400 degrees.

Top the dough with blueberries, goat cheese and thyme. Gently press them into the dough.

Bake for about 40 minutes until the dough is fully cooked. If the top starts browning too much cover with foil until the bread is fully cooked.