This brunch extravaganza is fun to watch as it cooks through the window in your oven. Baked in a cast iron or metal pan, this cross between a pancake and a popover falls soon after being removed from the oven. Also called german pancake.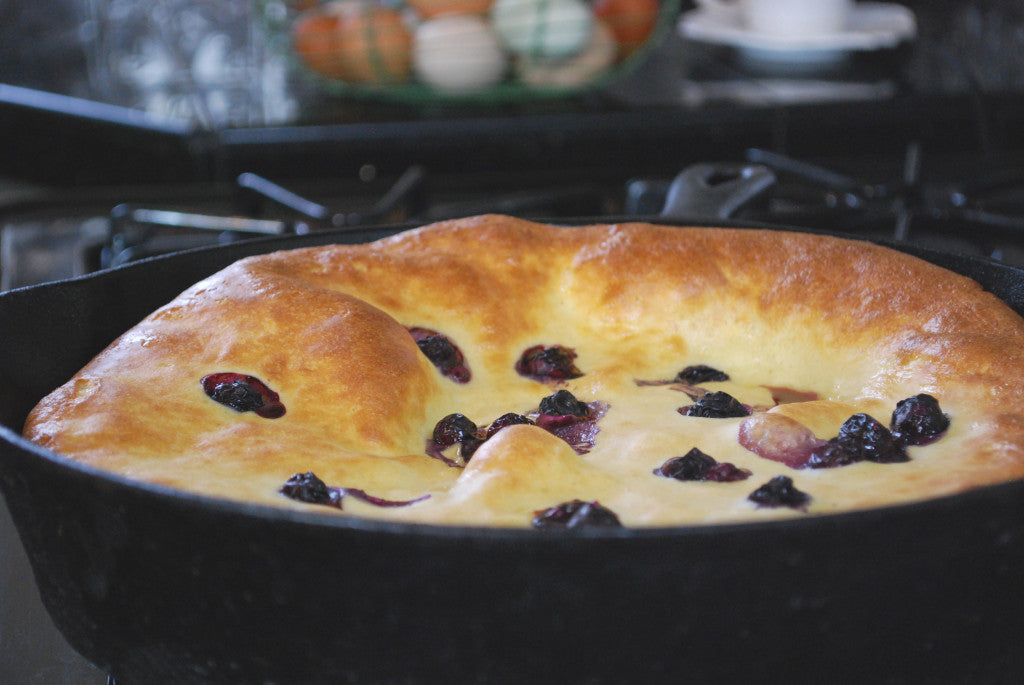 Yield: 6 servings

¾ CUP + 1TBSP Pamela's All-Purpose Flour Artisan Blend (115 gr.)
1 TBSP sugar
¾ tsp salt
3 eggs, large
1 cup whole milk
2 tsp vanilla
1 TBSP butter
¼ cup blueberries plus more for serving
powdered sugar to sprinkle on Dutch Baby
¼ cup lemon curd (or more)
EQUIPMENT:
10 to 12" cast iron pan
In a large bowl combine flour, sugar and salt with a whisk. In a large measuring cup, whisk together milk, vanilla, and eggs. Add to dry ingredients and mix well. Let rest at room temperature for three hours.

After 2 hours of resting, turn on oven to preheat to 450°. This is very important! Oven and pan must be smoking hot for this to work. Ten minutes before baking put the empty cast iron pan in oven to heat. You want it smoking hot! Put butter in hot pan, swirl around and pour in batter. Sprinkle half the blueberries in pan more towards the center, but spread apart. Quickly put back in oven to cook. Cook 12 to 17 minutes until risen and bubbly and browning on top bubbles. Center should be set and cooked through.

Remove from oven, sprinkle with powdered sugar. Dutch Baby will fall on removing from the oven; this is normal. Cut into wedges and serve warm with lemon curd and extra blueberries.

© Pamela's Products, Inc.