Make Baja-style fish tacos with a gluten-free batter. Delicioso!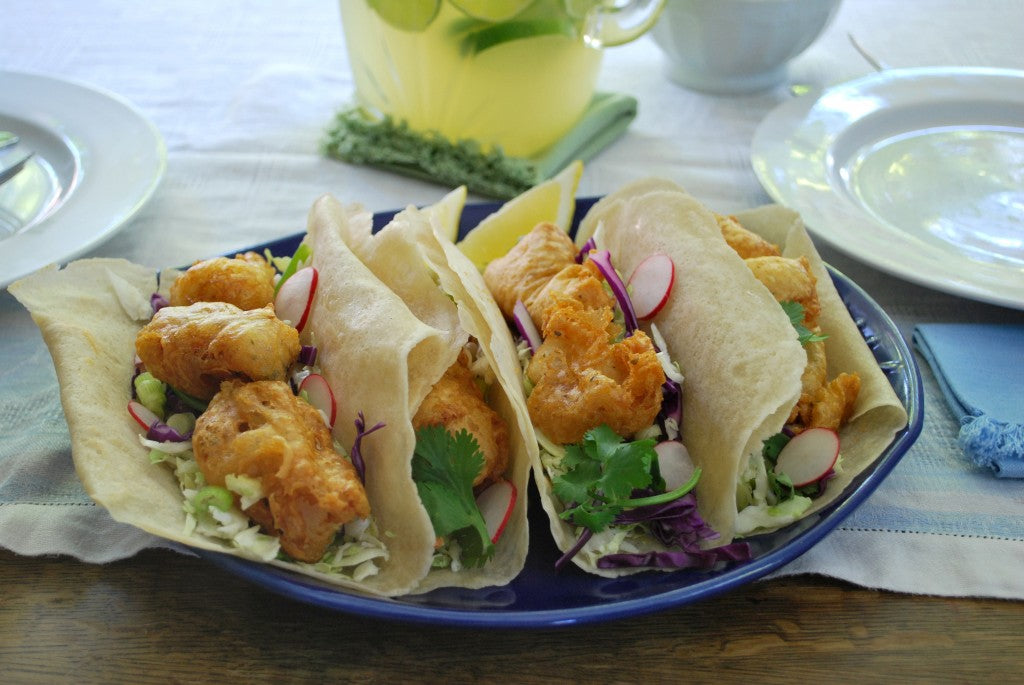 Yield:

1 lb. firm white fish of choice such as Tilapia, Cod or Basa Fish (also known as White Roughy or Swai Fish)
2 tsp salt
1 tsp sugar
1 tsp crumbled oregano
1/8 tsp cayenne
1 tsp baking powder
1 cup gluten-free beer
½ to 1 tsp hot sauce of your choice
oil for deep frying
corn tortillas or gluten-free flour tortillas
taco fillings, such as shredded cabbage, jalapenos, radishes, cilantro, onions, lemon, salsa or cream sauce
Heat oil to 350° in deep, heavy pot. Wash and dry fish. Cut into 1" x 2" pieces. You may also use peeled & cleaned shrimp or scallops. (Slice large scallops in half, so they are not so thick.) Drain on paper towels while making batter.

Make batter when oil is hot; combine flour, salt, sugar, oregano, and baking powder in medium bowl. Add hot sauce to beer, gently mix and add to dry ingredients. Mix batter together until incorporated. Coat fish in batter and deep fry until golden brown. Drain in basket over hot oil for a minute, and then drain on a sheet pan lined with paper towels. Place in 200° oven to keep warm until all fish is fried. Assemble fish tacos with your favorite fillings and enjoy.

Chef's Note: If making the fish tacos with Pamela's gluten-free flour tortillas, do ahead of the beer-batter fish fry.

© Pamela's Products, Inc.