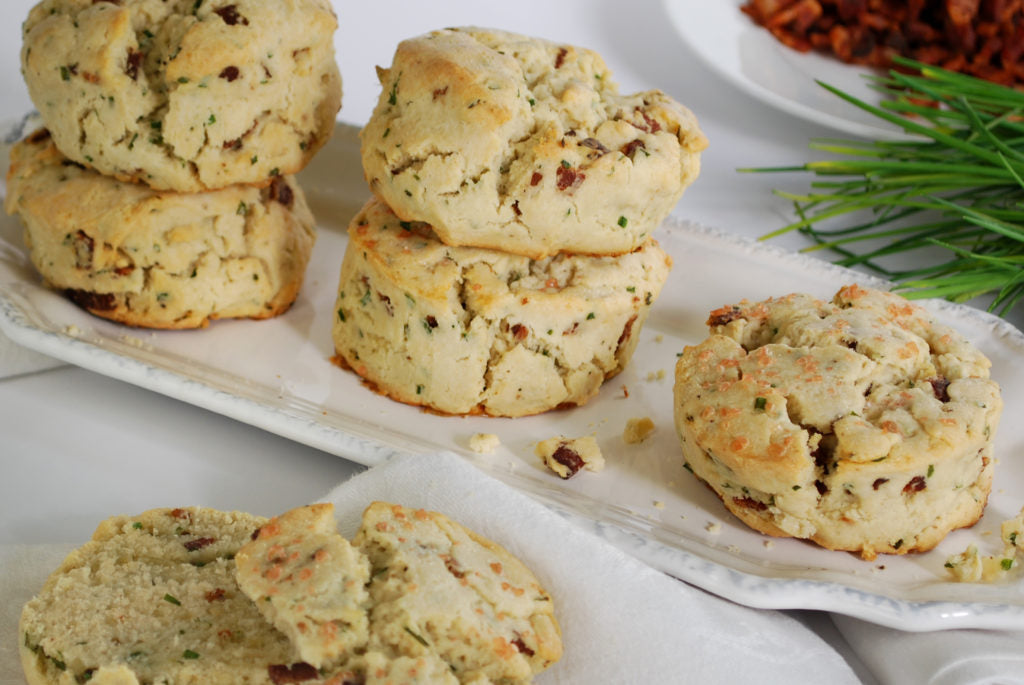 Yield:

½ cup bacon (about ½ lb., cut into ¼-inch strips and cooked crisp)
milk for brushing (optional)
1 bag Pamela's Biscuit & Scone Mix (13 oz)
1 tsp sugar
¼ tsp salt
pinch cayenne (optional)
½ cup butter or butter alternative, cut in ½" pieces, well chilled
1 cup milk or buttermilk
¼ cup chopped chives
sea salt flakes (optional)
Fry bacon until crisp, drain well and allow to cool.

Place rack in top third of oven and pre-heat oven to 375°. In bowl of stand mixer, whisk together Biscuit & Scone Mix, sugar, salt, and cayenne. Using paddle attachment (or pastry blender), cut in butter until pea-sized crumbs are formed. Add milk, bacon and chives; mix until just incorporated.

Scoop dough onto a piece of greased parchment or plastic wrap and gently form into a rectangle, about 1½" high. Cut with greased biscuit cutter (spray each time), and place on greased or parchment covered sheet pan. Brush lightly with milk and sprinkle with a few large crystals or flakes of salt before baking. Bake 20 to 26 minutes, depending on size, until cracked and just starting to brown.

Chef's Note: Use even more chives for a lively flavor. And if you can't resist, add ½ cup grated sharp cheddar for a tasty addition.

© Pamela's Products, Inc.