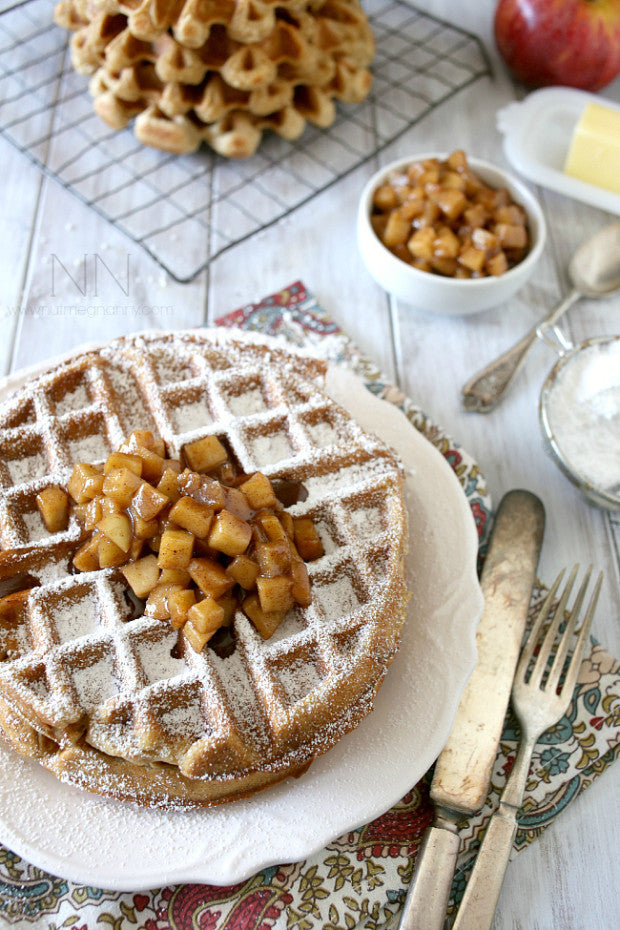 Yield:

For apples:

2 tablespoons unsalted butter
3 apples, peeled/cored/diced small
3 tablespoons dark brown sugar
2 teaspoons apple pie spice

For waffles:

2 teaspoons baking powder
1 teaspoon baking soda
3/4 teaspoons kosher salt
¼ teaspoon apple pie spice
1¼ cup whole milk
1 tablespoons apple cider vinegar
¼ cup dark brown sugar
2 tablespoons melted butter
2 large eggs
For apples:

1. Set a large sized skillet over medium heat. Add in the butter and when melted add in apples, brown sugar and apple pie spice.

2. Cook until the apples are soft and the brown sugar becomes syrupy. Remove from heat and let cool while you prepare the waffle mixture.

For waffles:

1. Preheat waffle iron.

2. In a medium sized mixing bowl whisk together gluten free flour, baking powder, baking soda, kosher salt and apple pie spice.

3. In a large mixing bowl add together milk, vinegar, brown sugar, melted butter and eggs. Whisk together until completely combined.

4. Add dry ingredients to wet and stir to combine. Fold in half the cooled apple mixture.

5. Spray your waffle iron with nonstick spray and cook waffles according to waffle iron directions.

6. Top with remaining apple mixture, powdered sugar, butter and a drizzle of maple syrup. Trust me, all those toppings are amazing when put together.