Make pancakes using our All-Purpose Flour Artisan Blend. These can be made dairy-free also! NOTE: This recipe was retested and updated July 2017.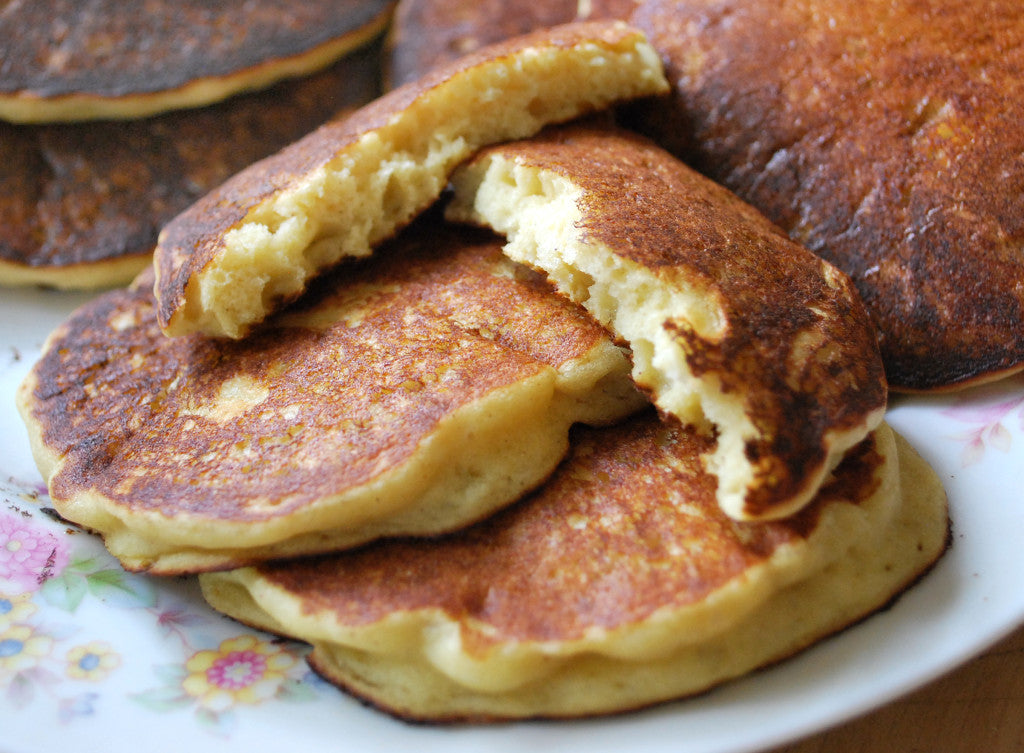 Yield: Twelve 4" pancakes

1 cup Pamela's All-Purpose Flour Artisan Blend (140g)
3 tsp baking powder
1 tsp baking soda
¼ tsp salt
1 cup milk or milk alternative, water or soda water
¼ cup water
1 tsp white vinegar (optional, adds a tang like buttermilk)
2 TBSP sugar or agave
1 TBSP coconut oil, melted
2 eggs, large
Optional: ½ tsp vanilla
Optional: ¼ tsp cinnamon
Optional: 3 TBSP Pamela's Nut Flour Blend or almond meal
Mix dry ingredients together. In separate bowl mix liquid ingredients. Whisk together wet and dry. Batter thickens as sits. Batter should be thick but pourable. Add additional water if batter becomes too thick. PANCAKES: Pre-heat griddle to medium low. Oil griddle with paper towel and pour 1/4 cup batter onto griddle and cook until bubbles surface all over the pancake, and edges dull. Flip once and cook until the pancakes puff and are browned on the second side. WAFFLES: Pre-heat waffle iron. Pour batter on hot greased iron. Use of coconut oil is important for helping waffles to crisp. Pancakes and waffles may take longer to cook.

Chef Note: when scooping flour instead of weighing, there might be more flour from heavy scooping and batter might need to be thinned with additional water.

© Pamela's Products, Inc.