Indulge in the rich and creamy goodness of our No Bake Cashew-Cheesecake Chocolate Covered Bites! These delectable treats are perfect for satisfying your sweet tooth without the guilt. Made with wholesome ingredients like cashews and dark chocolate, these bites are a healthier alternative to traditional desserts. The smooth and silky texture of the cashew-cheesecake filling pairs perfectly with the rich and decadent chocolate coating, making for a truly irresistible dessert. Try them out today and experience the ultimate chocolatey goodness in every bite! Made with our Mini Honey Grahams.
Photo and recipe created by Elisabeth @zazachef_cook.eat.repeat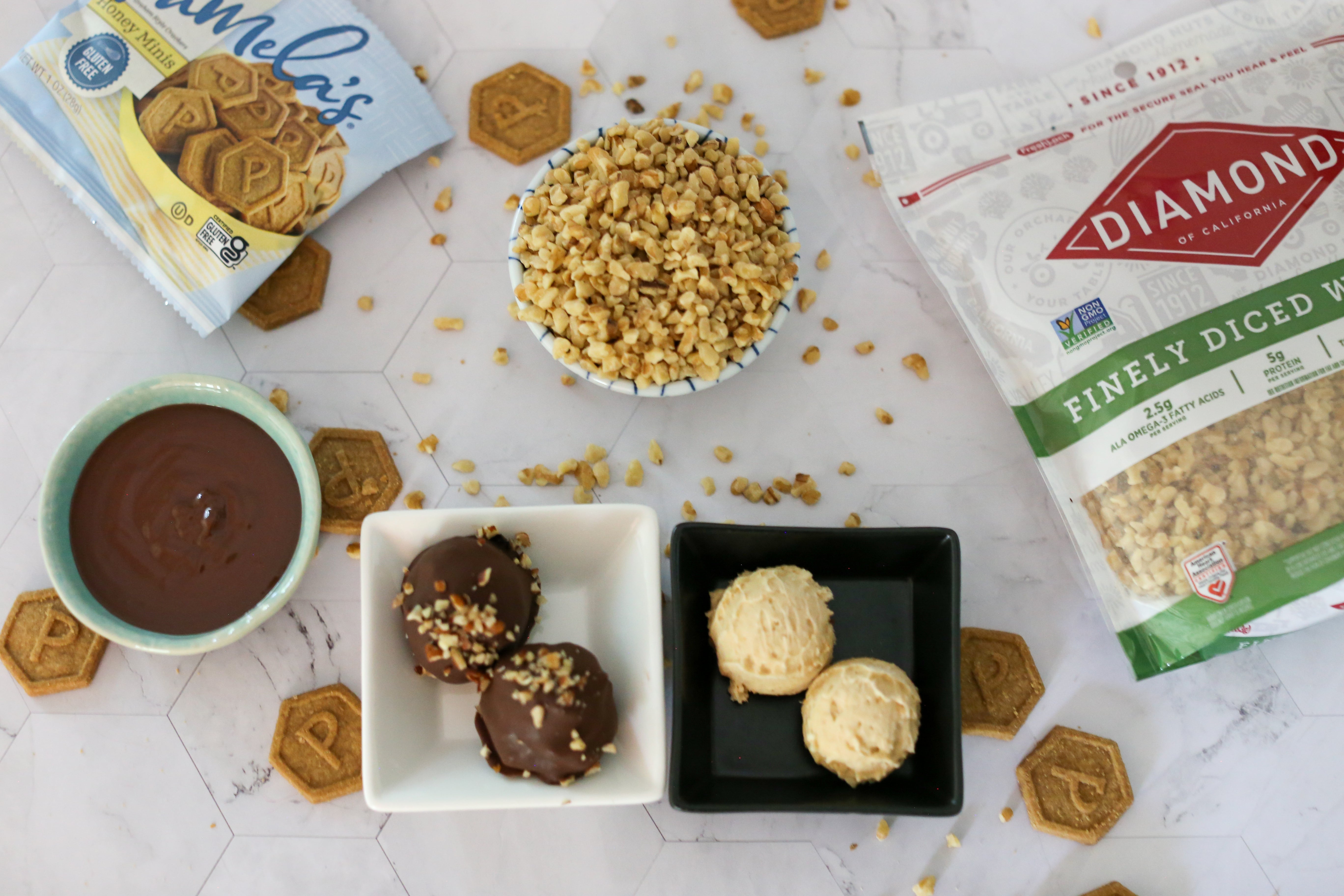 Yield:

1 8oz package cream cheese, room temperature
½ cup cashew butter (or any nut butter)
2-3 pouches Pamela's Honey Mini Grahams
¼ cup Diamond Finely Diced Walnuts
1 tbsp honey, or more to taste
½ cup chocolate chips semisweet or milk chocolate (depending on taste)
1 tbsp unrefined coconut oil
Line a small baking sheet with parchment.

In a medium size bowl add the cream cheese, cashew butter, and honey using a hand mixer and beat until smooth, taste, and add honey if needed.

Place the mini honey grahams on the baking sheet and using a 1" scoop, drop balls of the cheesecake mixture on the mini grahams. Place the baking sheet in the freezer for at least an hour or more.

Place the finely diced walnuts on a plate and set aside. Using a glass measuring cup add the chocolate and coconut oil and put it in the microwave for 30 seconds, check to add another 20 seconds or less and stir until well mixed and there are no more lumps (you can also use a double boiler to do this).

Remove the baking sheet from the freezer and using a fork dip the balls into the chocolate make sure there's no excess chocolate, then roll it in the walnuts and place it back on the baking sheet. You can also add the nuts after but just be very quick since the chocolate will set fast. Continue with all the balls and then place it back in the freezer for at least 5 minutes. You can also drizzle the top with chocolate and add top it with the nuts after.