This recipe was created by Liz at Gluten-Free Mom Colorado! Check out the original recipe on her website. Follow her on Instagram at @glutenfreemom_colorado.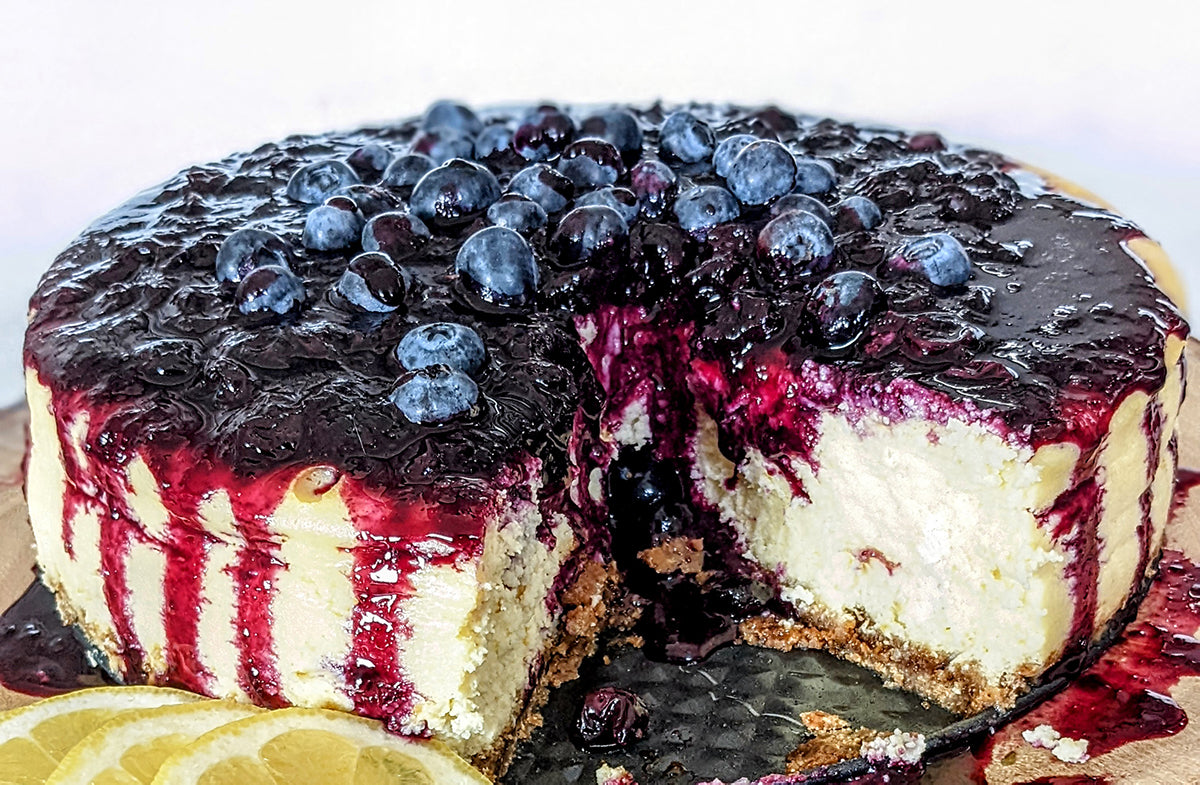 Yield:

GRAHAM CRACKER CRUST





CHEESECAKE

4 8 oz blocks of cream cheese at room temperature
2 cups sugar
3 tablespoons gluten free flour
3 teaspoons vanilla extract
3 teaspoon lemon zest
2 teaspoons fresh lemon juice
1/4 teaspoon salt
6 large eggs
1/2 cup sour cream





BLUEBERRY COMPOTE

2 cups of fresh blueberries
4 tablespoons of sugar
2 tablespoons of lemon juice
4 tablespoons of water
Preheat the oven to 375 degrees F and set an oven rack in the middle position. Wrap a 9 inch springform pan with one large piece of heavy-duty aluminum foil. Spray the inside of the pan with cooking spray.
Place graham crackers in a medium bowl and crush with a measuring cup until it is all crumbs. Add melted butter, sugar, and salt. Stir until combined. Press the crumbs into an even layer on the the bottom of the prepared pan. Bake the crust for 10 minutes. Remove the pan from the oven and set aside.
Reduce oven temperature to 325 degrees F.
Boil 4 cups of water
In a large bowl using a hand mixer or a stand mixer with a paddle, beat the cream cheese, sugar, and flour together on medium speed until just smooth. Add the vanilla, lemon zest, lemon juice, and salt; beat on low speed until just combined. Add the eggs, one at a time, mixing on low speed. Mix in the sour cream until combine.
Place the cheesecake pan in a large roasting pan. Pour the batter on top of the crust. Pour the boiling water into the large roasting pan to come about 1 inch up the side of the cake pan.
Bake for 1 hour and 30 minutes to 1 hour and 45 minutes, until set. Cool the cheesecake for about 45 minutes before removing from the roasting pan.
Remove the springform pan from the water, discard the foil, cover with plastic wrap and place in the refrigerator to cool for at least 8 hours or overnight.
Remove the sides of the springform pan and place on a serving plate.


BLUEBERRY COMPOTE
Place blueberries, water, lemon and sugar in a medium saucepan.
Bring berries to a boil, stirring constantly. Let cook for 10 minutes, until thickened. Let cool.
Pour over the top of the cheesecake.

© Pamela's Products, Inc.