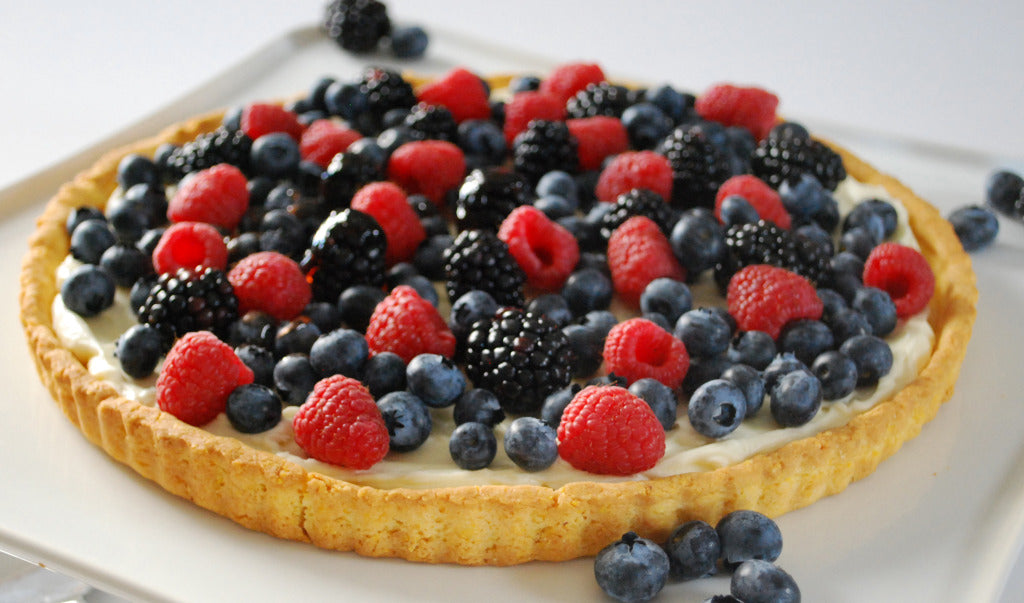 Yield:

1 bag Pamela's Cornbread & Muffin Mix (12 oz)
⅓ cup sugar
4 TBSP butter, chilled
4 TBSP cream cheese
6 to 8 TBSP ice cold water

FILLING

8 oz cream cheese
¼ cup powdered sugar
1 TBSP lemon juice (Optional)
1 pint blackberries (2 cups)*
1 pint blueberries (2 cups)*

GLAZE (Optional)

¼ cup currant jelly

EQUIPMENT

10 or 11" tart pan with removable bottom
*or equivalent amount of any berries you prefer
CRUST:

In the bowl of a stand mixer, whisk together Cornbread & Muffin Mix and sugar. Add butter and cream cheese, and mix until small pea sized pieces are formed. While mixing, add 6 TBSP cold water and mix until dough comes together. Add 1 TBSP water at a time until dough sticks around the paddle in large clumps.

Spray two pieces of parchment paper or plastic wrap. Put dough on one of the sheets of paper or plastic wrap and cover with second sheet. Pat and then roll dough to ¼" thick. Remove top sheet and place tart pan upside down on dough and trim around pan leaving 1½ to 2" extra dough. Flip with the aid of the second piece of parchment. Push dough into tart pan in an even layer and up the sides. Dough may crack; it patches very easily. Make sure the corner and sides have a thick, even dough so crust does not crack while baking. Once dough is pressed into tart shell, wrap in plastic and chill at least 30 minutes or overnight before baking.

Preheat oven to 350°. Bake unfilled crust on the bottom rack for 28 to 32 minutes.

FILLING:

Cream together the cream cheese and sugar until smooth, loosen with lemon juice if needed to spread easily. Carefully spread the sweetened cream cheese over the slightly warm or cooled crust. Add berries and serve.

GLAZE:

Use this option if you are making the tart ahead of time. Melt jelly over low heat, cool slightly, and gently brush over fruit on crust or gently toss fruit in glaze and then place on tart.

© Pamela's Products, Inc.