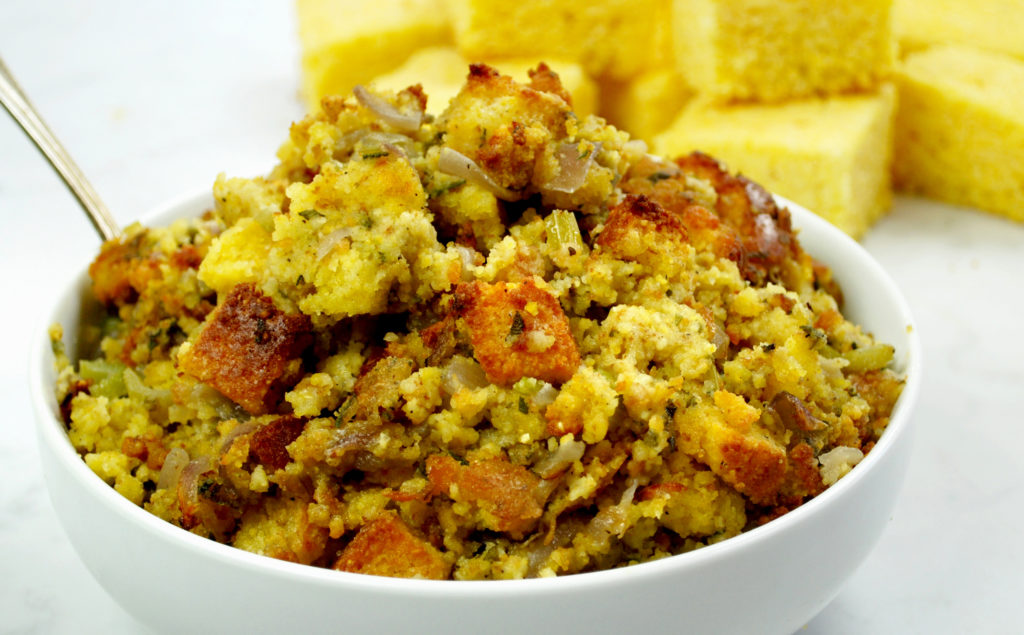 Yield:

1 recipe Pamela's Sweet Old Fashioned Cornbread, prepared
8 TBSP butter
1 medium onion, diced
3 to 4 stalks celery, diced
¾ tsp salt
½ tsp pepper, or to taste
2 to 3 TBSP fresh sage, finely minced or 2 tsp dried
1 cup chicken stock
2 eggs, large, beaten
Make Sweet Old Fashioned Cornbread according to package directions, ahead of time. Cut into ¾-inch cubes and allow to dry out for a couple of days or overnight. (The cubes will be dry on the outside, but NOT dried all the way through like croutons; you will need to add more stock if your cubes are very dry.)

Melt butter in a sauté pan over medium heat. Add onions and celery, and season with salt and pepper. Cook for 8 to 10 minutes until soft and translucent, adding the sage at the last minute.

In a large bowl, toss the dried cornbread cubes, vegetables and stock lightly with a large wooden spoon. Do not over-mix. Add eggs and toss lightly to moisten well.

Butter a shallow 11-inch oval or 9 x 9-inch square baking dish and spread dressing mixture evenly in the pan. Bake uncovered for 40 to 50 minutes, until the peaks are golden brown. Serve with gravy, if you like.

Chef's Note: This is one recipe you can start ahead of time; by making the cornbread a couple of days ahead, cubing it, and letting it dry out, you'll be ready to finish it off when the time comes.

© Pamela's Products, Inc.