Try these creative pancakes for breakfast with a colorful twist. 2011 Recipe Contest Honorable Mention
by Pamela E. For a dairy-free version, see our Red Velvet Pancakes (Dairy-Free) recipe.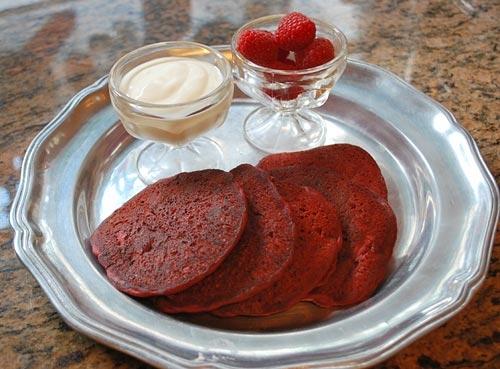 Yield: 10-12 four-inch pancakes

1 ½ cups Pamela's Baking & Pancake Mix
3 tbsp brown sugar
2 tbsp unsweetened cocoa
1 large egg, lightly beaten
3/4 cup buttermilk or unsweetened chocolate almond milk with 1/2 tsp vinegar
1/4 sour cream or yogurt, dairy or non-dairy
3 tbsp unsalted butter or non-dairy alternative, melted
1 tsp vanilla extract
Optional:1 tsp to 1 tbsp red food coloring
Optional: mini-chocolate chips
In a large bowl, whisk together the dry ingredients. In a separate bowl, whisk the egg, milk, sour cream, melted butter, food coloring, and vanilla. Add them together and beat until just combined. A few lumps are fine.

Heat a frying pan or griddle to medium high heat. When hot add butter or oil to grease, followed by a small scoop of batter, 2 to 4 tablespoons. You can add some mini-chocolate chips. Wait for the pancakes to bubble, flip and cook the other side for a minute or so. Enjoy!

Top with vanilla yogurt, sweetened raspberries and a few mini-chocolate chips. Can be made ahead and frozen until you need them. Heat two in the microwave oven for 30 to 45 seconds.

Chef's Note: If you use 1 tablespoon of food coloring, you will have very bright pancake batter, but it will tone down when you cook them.

© Pamela's Products, Inc.