This is a unique pumpkin dessert, halfway between pumpkin pie and pumpkin cake. You can serve larger pieces to eat with a fork, or cut it into smaller pieces to eat like a bar. (This recipe was formerly called Pumpkin Betty Bars.)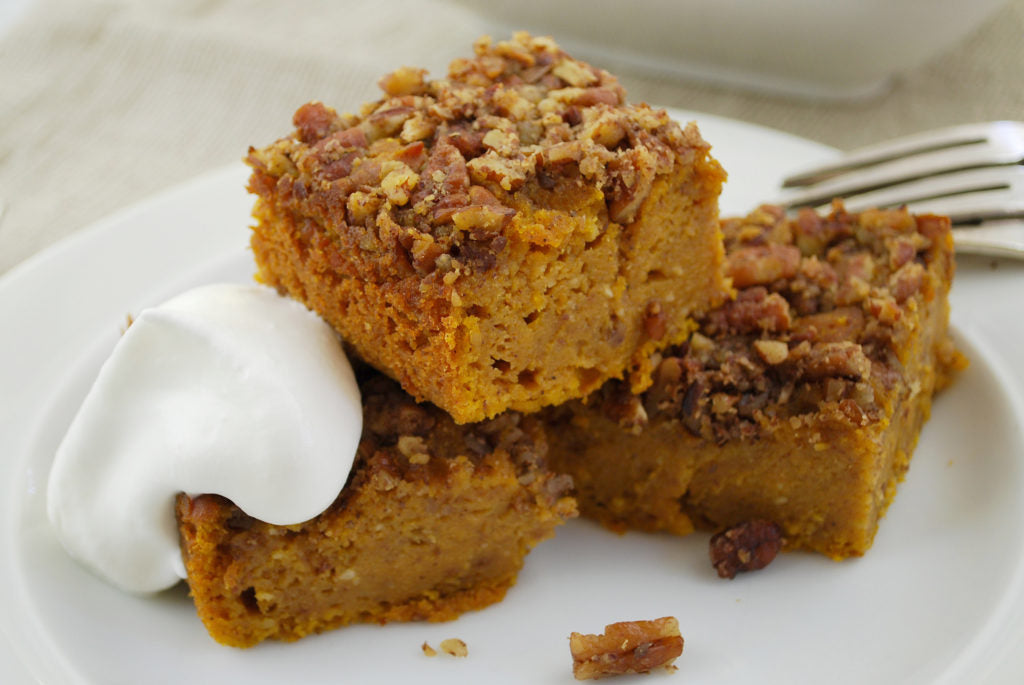 Yield:

FOR THE TOPPING

2 cups chopped pecans and/or walnuts
½ cup (1 stick) butter, melted
1 teaspoon vanilla

FOR THE BARS

1 (29 ounce) can pumpkin pie mix
1 (14 ounce) can sweetened condensed milk
2 eggs, large, beaten
½ cup (1 stick) butter, melted
2 cups (280 g) Pamela's Baking & Pancake Mix
TO MAKE THE TOPPING: Mix all ingredients together and set aside.

TO MAKE THE BARS: Preheat oven to 350° with rack in center of oven. Grease a 9 x 13-inch baking pan.

In a large bowl, mix together pumpkin pie mix, milk, eggs, and butter. Add Baking & Pancake Mix and stir to combine. Pour into baking pan and spread evenly. Gently pat topping slightly into top of the pumpkin batter. Bake for about 50 to 58 minutes or until toothpick inserted near center comes out clean.

When cool, cut with a small serrated or steak knife for best results.

VARIATION: You can substitute plain pumpkin puree plus 3 teaspoons pumpkin pie spice in place of canned pumpkin pie mix.

© Pamela's Products, Inc.