Delicious buttery and cheesy potatoes with a touch of elegance.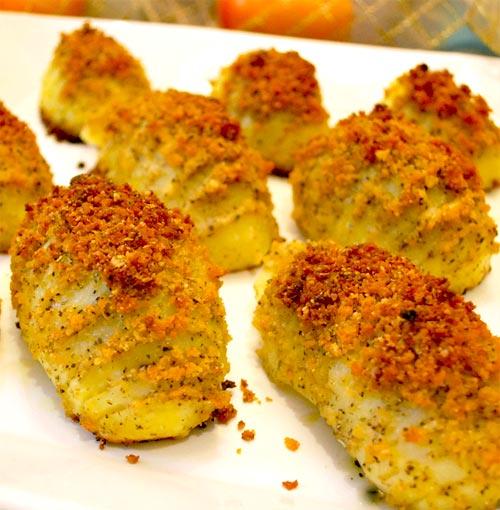 Yield:

4 large Yukon Gold potatoes—round in shape w/ flatter sides
3/4 cup Pamela's Bread Crumbs
6 TBSP grated Parmesan cheese
3 1/2 TBSP butter—divided & melted
1 TBSP olive oil
1 1/2 tsp Italian herbs
3/4 tsp salt
1/2 tsp pepper
Pre-heat oven to 450°. Prepare peeled, halved potatoes, placing each half, cut side down, on a cutting board. Place 2 chop sticks on each side of the potato and slice into ¼ " thick slices. (The chop sticks stop you from cutting through the potato.)

Mix together bread crumbs, parmesan cheese, 2 1/2 TBSP melted butter, herbs & spices. Place in a shallow bowl. Place olive oil in another small bowl. Carefully bend potato to separate sections. Dip or brush with oil. Separate sections again & dip in bread crumb mixture. Using your finger tips, try to push bread crumbs in between sections, being careful not to break apart potato. Place potato in buttered or oiled baking dish and repeat process until you have completed all 8 potatoes. Top potatoes with remaining crumbs. Drizzle tops with remaining melted butter.

Cover tightly with foil & bake in 450° oven for 30 mins. Check to see if potatoes are done with the point of a paring knife in the thickest, bottom part of the potato. It should be quit soft. If not, cover tightly & put back in oven for 10 to 15 minutes. Time depends on the size of the potatoes. Potatoes can take anywhere from 40 to 60 minutes. Serve immediately.

© Pamela's Products, Inc.