A delicious combination of savory flavors in a a gluten-free biscuit. Recipe and photo by Recipe Runner.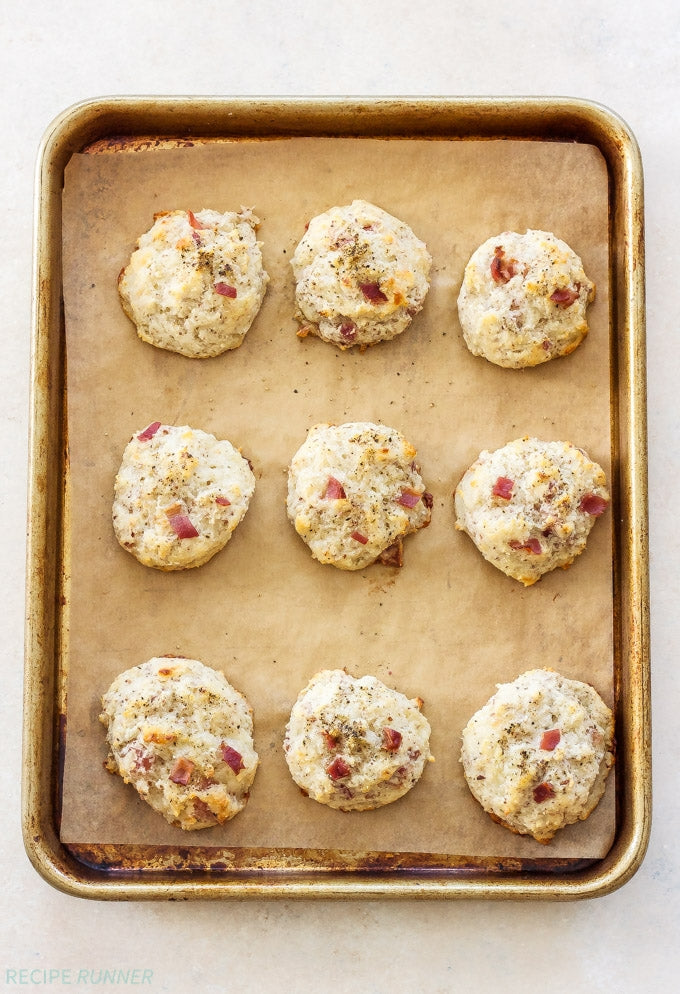 Yield: 9-10 biscuits

2 tablespoons cold unsalted butter, cut into small pieces
¼ cup cold milk of choice
3 tablespoons cold plain non-fat Greek yogurt, 2% may also be used
½ teaspoon freshly ground black pepper, plus more for sprinkling on top of the biscuits
3 slices of bacon, cooked and cut into small pieces
⅓ cup shredded Gruyere cheese
Line a baking sheet with parchment paper and preheat oven to 375 degrees.
In a medium sized bowl use a pastry cutter or your hands and work together the baking mix and cold butter until pea sized crumbles form.
In a glass measuring cup, whisk together the milk and yogurt then pour into the baking mix.
Fold together until almost combined with a rubber spatula.
Add in the black pepper, chopped bacon and Gruyere cheese and fold together until everything is combined.
Use a 1 1/2 tablespoon sized cookie scoop (or a heaping tablespoon) to drop the biscuit dough onto the prepared baking sheet.
Sprinkle the tops of the biscuit dough with more black pepper then place them in the oven to bake for 11-14 minutes or until the tops are golden and a toothpick inserted in the center comes out clean.
Cool the biscuits on a wire rack.