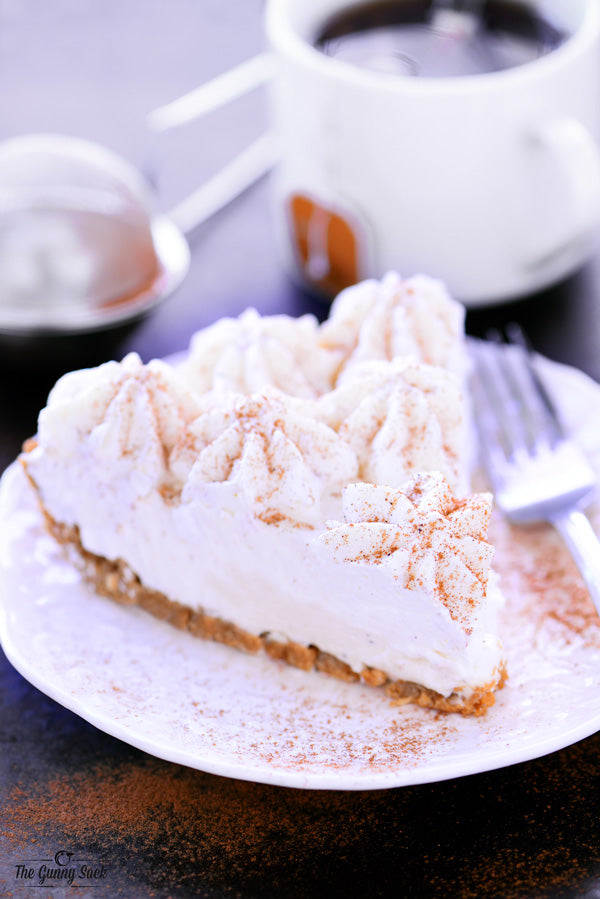 Yield:

Whipped Cream

1-pint heavy whipping cream
6 tbsp powdered sugar
2 tsp vanilla extract

Graham Cracker Crust

1¾ cups Pamela's Honey Graham cracker crumbs (7.5-ounce package)
⅓ cup butter, melted
¼ cup granulated sugar
⅛ tsp ginger, optional

Eggnog Cheesecake

8-ounce package cream cheese, softened
⅓ cup sugar
¼ cup eggnog
1 tsp vanilla
½ tsp ground nutmeg
2 cups whipped cream

Garnish

1 cup whipped cream
¼ tsp ground cinnamon
⅛ tsp ground nutmeg
Whipped Cream:

Beat the heavy cream in a cold metal bowl until thickened. Add the powdered sugar and vanilla. Beat until stiff peaks form. Half of the whipped cream is for the filling and the other half is for the top.

Graham Cracker Crust:

Stir together graham cracker crumbs, melted butter, granulated sugar and ginger (optional). Press into a 9-inch pie pan.

Eggnog Cheesecake:

Beat softened cream cheese until smooth. Beat in the granulated sugar. Beat in the eggnog, vanilla and ground nutmeg until smooth. Fold in two cups of the prepared whipped cream.

Garnish:

Top with remaining whipped cream and sprinkle with cinnamon and nutmeg.

Place in fridge to set. Keep refrigerated until ready to serve.

© Pamela's Products, Inc.