Start your morning with these sweet and zesty waffles! Bring some Belgian into your kitchen.
2011 Recipe Contest Runner Up by Johannafaye G.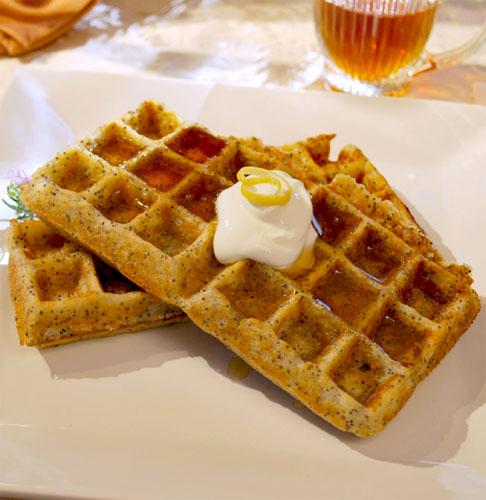 Yield: 2 to 4 servings

2 tbsp poppy seeds
2 tbsp lemon zest
1-1/4 cups cold club soda
1 large egg, lightly beaten
1/4 cup butter, melted
Stir together Pamela's Baking & Pancake Mix, poppy seeds, and lemon zest. Whisk together club soda, egg, and melted butter in a small bowl; gently whisk egg mixture into poppy seed mixture (mixture will be lumpy.) Let stand 3 minutes.

Cook using 1 cup batter in a preheated, oiled Belgian-style waffle iron until golden. (If you don't have Belgian-style waffle iron use 1/2 cup batter in traditional waffle iron.) To make pancakes instead of waffles, use 1/4 c. batter on medium-hot oiled griddle.

Serve with maple syrup and crème fraîche.

Chef's Note: Don't skimp on the serving suggestions. The real maple syrup and crème fraîche sends this recipe right into the top tier.