Whip up a batch of these deliciously sweet cookies! Perfect to have around for the holidays or anytime!
2011 Recipe Contest Honorable Mention by Ann B.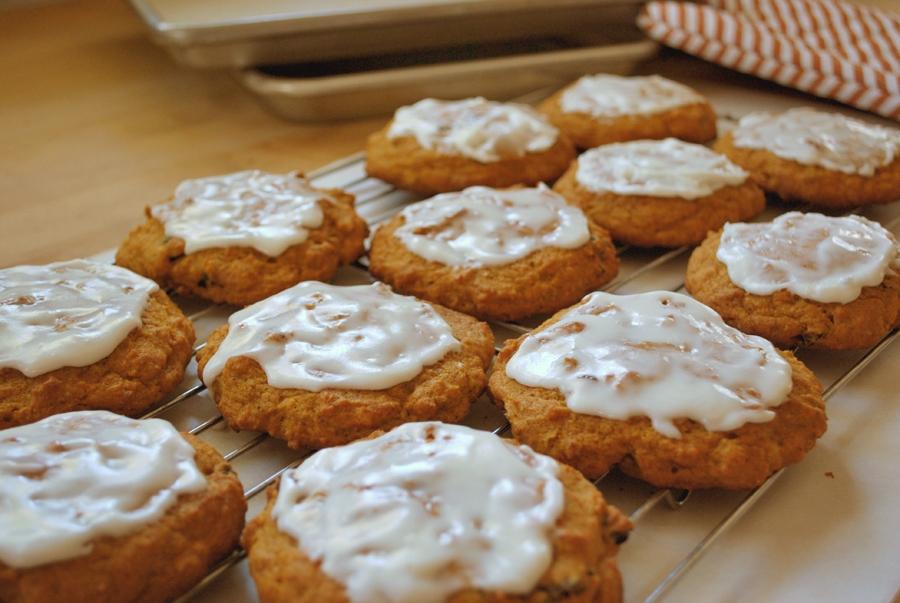 Yield: 4 to 5 dozen

Cookies

1 cup butter, softened
½ cup sugar
½ cup packed brown sugar
1 egg
1 cup canned pumpkin
2¼ cups Pamela's Baking & Pancake Mix
1 tsp baking powder
½ tsp baking soda
½ tsp salt
1½ tsp ground cinnamon
1 tsp ground ginger
½ tsp ground nutmeg
¼ tsp cloves
1 cup chopped walnuts
1 cup sweetened dried cranberries
1 cup vanilla or white chips, optional

Icing

¼ cup butter, softened
2 cups powdered sugar
3 TBSP milk
Cookie Directions

In large mixing bowl, cream butter and sugars. Beat in egg and pumpkin. Combine the flour with other dry ingredients in a separate bowl. Gradually add to creamed mixture. Stir in walnuts and cranberries, and the chips, if using.

Drop by the tablespoonful 2-inches apart onto cookie sheets lined with parchment paper. Preheat oven to 350° and bake for 15 to 18 minutes or until lightly browned. Remove to wire racks to cool.

Icing Directions

In small mixing bowl, combine ingredients and beat until smooth.

Chef's Notes: Cookies will be plump and upright or you can smooth them down with a small rubber spatula for a cookie shaped more like a chocolate chip cookie.

© Pamela's Products, Inc.