Traditional southern cornmeal dumplings get an update with a kick of smoky and spicy chipotle pepper. Addictive as a party snack or side dish! 2012 Recipe Contest "Praiseworthy" Recipe by Pamela V.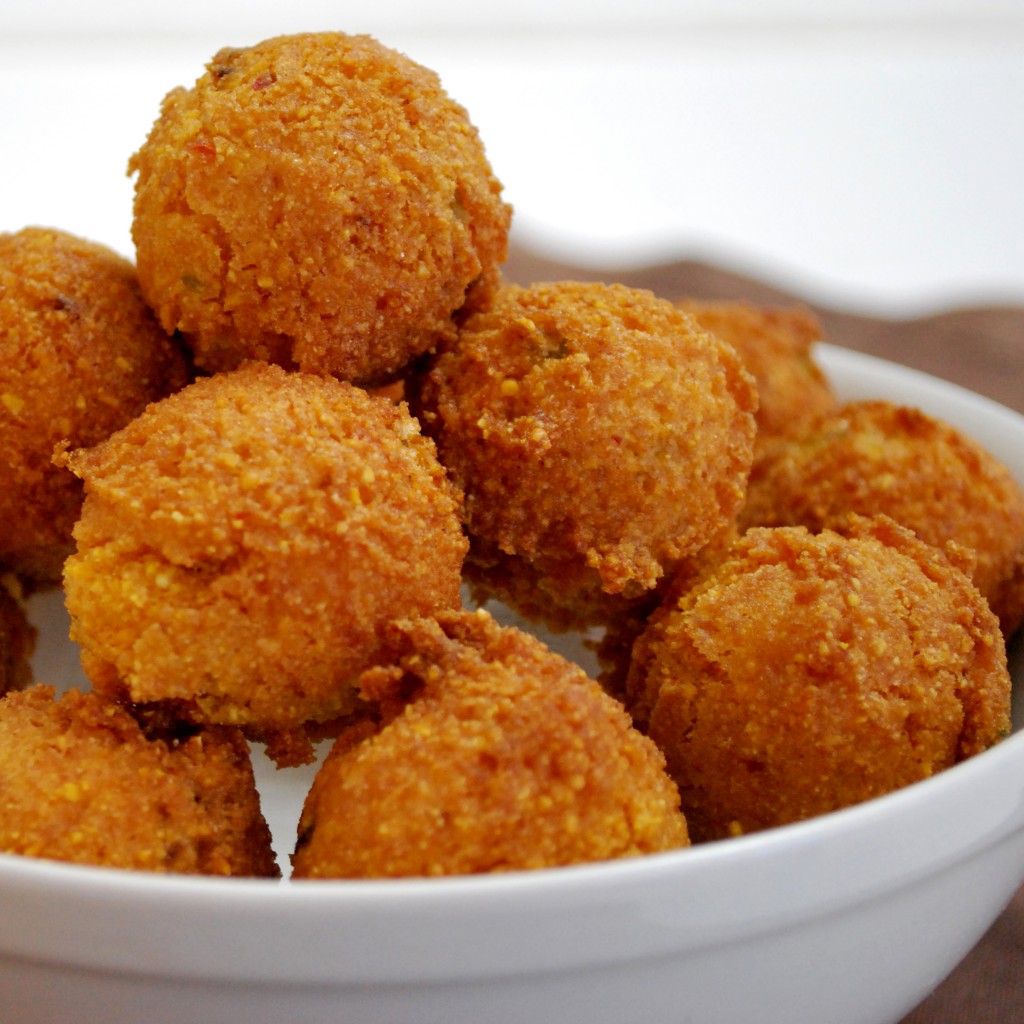 Yield: 6-8 servings (about 24 Hush Puppies)

HUSH PUPPIES

1/4 cup sugar
2 green onions-thinly sliced
2 Chipotle peppers in Adobo-chopped
1/4 cup honey
2 eggs- lightly beaten
1 TBSP milk
salt-to taste
Canola oil for frying

DIPPING SAUCE/SPREAD

2 TBSP butter-softened
2 TBSP honey
In a medium bowl, combine Pamela's Cornbread & Muffin Mix, sugar, scallions, and chipotle peppers. In a measuring cup with spout combine honey, eggs, and milk. Pour egg mixture into bowl with dry ingredients, stirring gently with a fork until thoroughly combined. Mixture should have the consistency of thick hummus. If too thick, add a splash of milk. If too thin, add a sprinkle of Cornbread & Muffin Mix.

Fill heavy small saucepan with approximately 2 inches canola oil. Set over medium high heat, and heat to 315°. Using a mini ice cream scoop, and working in batches of 4, scoop small balls of cornmeal batter into hot oil. Turn occasionally using a metal slotted spoon, and cook until evenly golden-brown, about 2-3 minutes. Remove onto a paper-towel lined plate and sprinkle with salt. Repeat with remaining batter, making sure the oil temperature stays around 315 to 325°.

Combine 2 tablespoons softened butter and 2 tablespoons honey for a dipping sauce and serve immediately with prepared hush puppies.

Chef's Note: Deep frying at home doesn't have to be a major production - I literally made these in my tiniest sauce pan with about 1 cup of oil.

© Pamela's Products, Inc.