This delicious buttery cake is baked on a grill to perfection and topped with sliced fruit and yogurt. Recipe and photo by Cafe Johnsonia.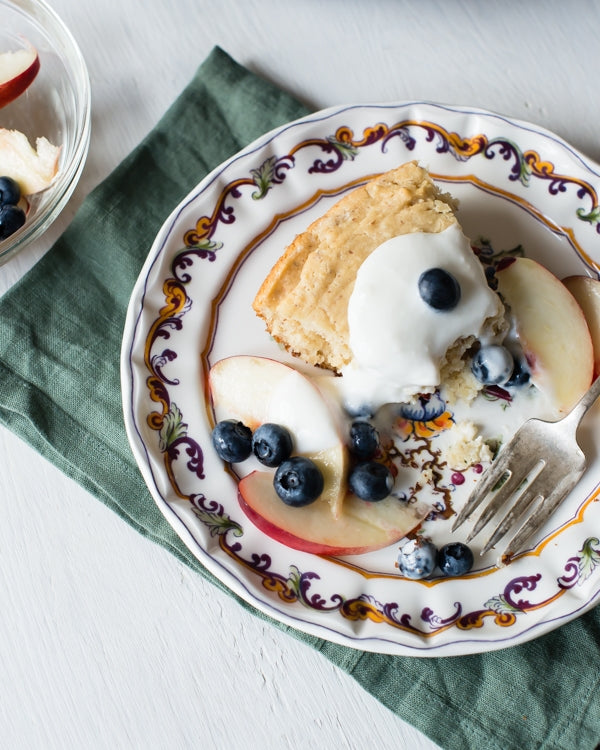 Yield: 10 slices

FOR THE CAKE:

2½ cups Pamela's Baking & Pancake Mix

½ cup evaporated cane juice or granulated sugar

8 tablespoons cold unsalted butter, diced, plus more for greasing pan

1 cup buttermilk

1 large egg, lightly beaten

2 teaspoons pure vanilla extract

FOR THE TOPPING:

2-3 nectarines, thinly sliced
1 cup blueberries
Yogurt
Preheat grill to medium-high heat. (The actual temperature will range from 350° to 425°F. If using an oven, heat it to 400°F.)

Grease a 10-inch cast iron skillet with 1-2 teaspoons of unsalted butter.

In a large mixing bowl, whisk together baking mix and sugar.

In another bowl, whisk together buttermilk, egg, and vanilla extract.

Using a pastry cutter or two butter knives, cut butter into the dry ingredients until it resembles cornmeal with some larger, pea-sized pieces remaining. Make a well in the center and add the buttermilk mixture.

Use a fork to stir together gently. Do not beat the batter or stir until smooth. It should be lumpy.

Pour into the greased cast-iron skillet and place on grill.

Cover and let cook for 25-30 minutes, or even less depending on how hot the grill is. The cake should be set and a cake tester inserted into the center should come out clean. It may or may not be golden on top.

Remove from heat and let cool before serving. To serve, cut into wedges and top with fruit and a dollop of yogurt.