These crepes are delicious with Asparagus and Mornay Sauce, or served open-faced, a little crispy, with a light spread of crème fraiche, and thin slices of smoked salmon.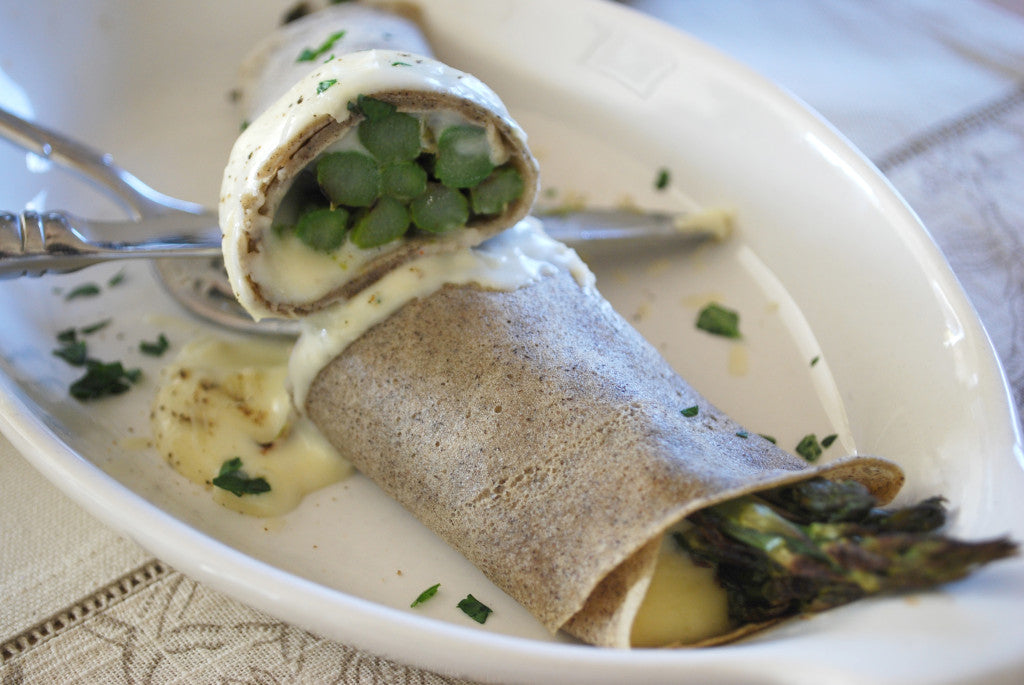 Yield: Ten 8" crepes

⅔ cup buckwheat flour*
½ tsp salt
1 ¾ cup whole milk
3 lg eggs
5 TBSP melted butter plus more for pan
¼ cup parsley-finely minced (optional)
* Make sure the buckwheat flour is labeled gluten-free
Whisk dry ingredients together in small bowl. In blender jar combine eggs, milk, and melted butter (and parsley if using). Add dry ingredients and blend well. If you let the batter sit in refrigerator before using you will need to add ¼ cup additional water to lighten the batter.

Heat 8" crepe or non-stick pan to medium heat. Melt 1 TBSP butter (or use oil) to coat the bottom of the pan, add ¼ cup batter, swirl to cover bottom of pan (don't worry about air holes that develop as crepe is cooking), cook until edges start to turn brown and crisp, about two minutes, gently flip and cook on second side only about 30 seconds until sheen is gone from the crepe. Stack with clean tea towels or wax paper between as they come out of the pan. Repeat, adding more butter for each crepe.

Try these crepes with our Buckwheat Crepes with Asparagus and Mornay Sauce.

Adapted from the Food Network

© Pamela's Products, Inc.