Enjoy a delightful twist on a traditional English favorite.
2009 Pamela's Gluten-free Recipe Contest Runner Up recipe by Denise P.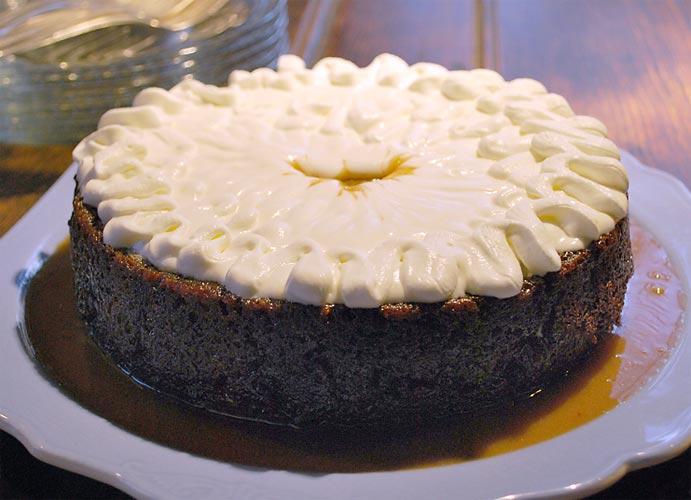 Yield: 8-10 servings

1 cup boiling water
10 oz pitted dates + 1 tsp baking soda
1-1/2 cups Pamela's Baking & Pancake Mix
1 tsp baking soda
pinch of salt
4 oz soft butter (1 stick or 1/2 cup)
5 tbsp sugar
2 eggs
1 tsp vanilla

Toffee Sauce:

1/2 pint whipping cream
1 cup light brown sugar
4 oz butter
Preheat oven to 350º.

Pour boiling water on dates and baking soda, and let sit for 5 minutes.

Grease and line a round spring form pan with wax paper. Beat sugar and butter until airy. Add eggs and vanilla and beat again until well mixed. Stir in Pamela's Baking & Pancake Mix, baking soda and salt with a spatula until well mixed. Add date mixture. Pour into spring form pan. Bake 30 minutes in center oven.

Let cool 5 minutes then invert onto a serving plate.

For the sauce, melt butter and sugar together then add cream and simmer while stirring for 3 minutes. Pour on the cake and serve with fresh whipped cream.

Whipping cream to serve.

How this recipe came to be: Sticky toffee pudding is an English favorite and lends itself to this gluten-free version exceptionally well. Thanks to Pamela's Baking & Pancake Mix, I came up with this. I have served this at dinner parties without even explaining it being gluten- free, it's a crowd pleaser! Thank you, Pamela!

© Pamela's Products, Inc.