Enjoy this delightful cake as a loaf or frosted in layers with cream cheese frosting.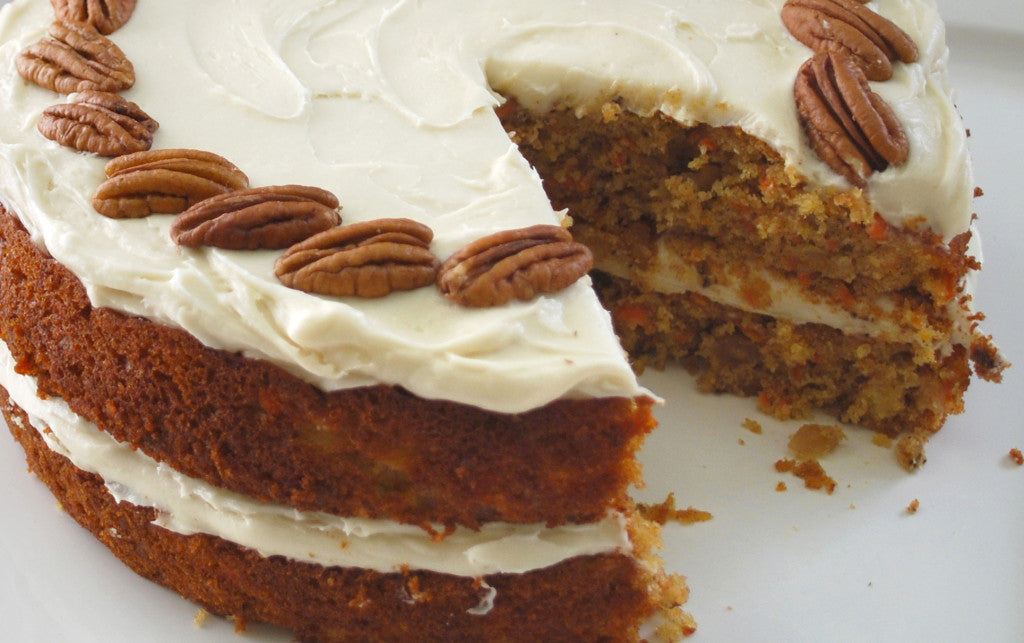 Yield: one cake, see pan sizes below

Cake

1½ tsp cinnamon
½ tsp allspice
½ tsp nutmeg
1 pinch ground cloves
zest of 1 orange
¾ cup oil
2 eggs
¾ cup sugar
1 tsp vanilla
1½ cups grated carrots
½ cup or 8 oz. can crushed pineapple in its own juice, well-drained
½ cup walnuts, chopped (optional)

Cream Cheese Frosting

1 bag Pamela's Vanilla Frosting Mix
2 TBSP butter or margarine, room temp
6 ounces cream cheese, room temp
1 tsp water
1 tsp cinnamon (optional)
Pre-heat oven to 325°, with rack in top third of oven.

CAKE:

In a medium bowl, whisk together Baking & Pancake Mix and spices. Set aside. Beat orange zest, oil, eggs, sugar and vanilla in the bowl of a stand mixer (or by hand), until well mixed. Mix in carrots and pineapple and then add dry ingredients to wet ingredients and mix well. Add nuts and mix again. Pour into baking pan(s), prepped with cooking spray, and bake according to pan size. Toothpick should come out clean. Once cooled, frost with cream cheese frosting.

CREAM CHEESE FROSTING:

Soften butter or margarine by mixing in mixing bowl. Add remaining ingredients and mix together on medium for 1 to 2 minutes or until smooth. If frosting is too thick, add more water one teaspoon at a time.

PAN SIZE AND COOKING TIMES:

• Two 8" round cake pans (makes two 1¼ to 1½" cakes) = 30 to 35 minutes

• One 9" springform pan (makes one 2 to 2½" cake) = 45 minutes

• One 7" x 11" rectangle pan (makes one 2" cake) = 40 to 45 minutes

© Pamela's Products, Inc.