For a heartier pancake, try this recipe which adds buckwheat and sorghum to Pamela's Baking & Pancake Mix.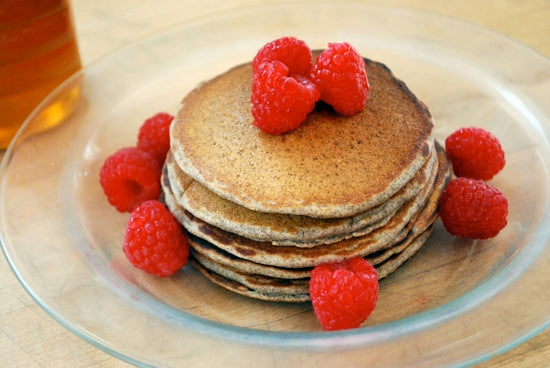 Yield: Approx. 10 pancakes

Mix dry ingredients:

6 TBSP Pamela's Baking and Pancake Mix (1/4 cup + 2 TBSP)
1/2 cup buckwheat flour
1 TBSP sorghum flour
1 tsp sugar
1/2 tsp baking powder
1/4 tsp salt
Optional - add 1 TBSP flax seed*

Mix wet ingredients:

3/4 cup buttermilk
1/4 cup water
1 egg, large
1 TBSP oil
Heat pan to medium high, add 1 TBSP oil and spread all around the pan. Lower heat to medium. Mix up dry ingredients*, mix up wet ingredients. Incorporate them together. Use ¼ cup batter for a 3 to 4 inch pancake. Additional water can be added if batter is too thick. Flip when bubbles form and pancakes are well browned on the first side. Finish cooking until pancakes are cooked all the way through, one to two minutes.

Chef's Note: Use a non-stick pan or griddle if you have one, and use lots of oil to grease the pan too!

© Pamela's Products, Inc.