Sweet and banana-ey…everything you'd want in a muffin, gluten-free or not. Add blueberries, chopped walnuts, or even chocolate chips. Recipe and photo by Love & Lemons.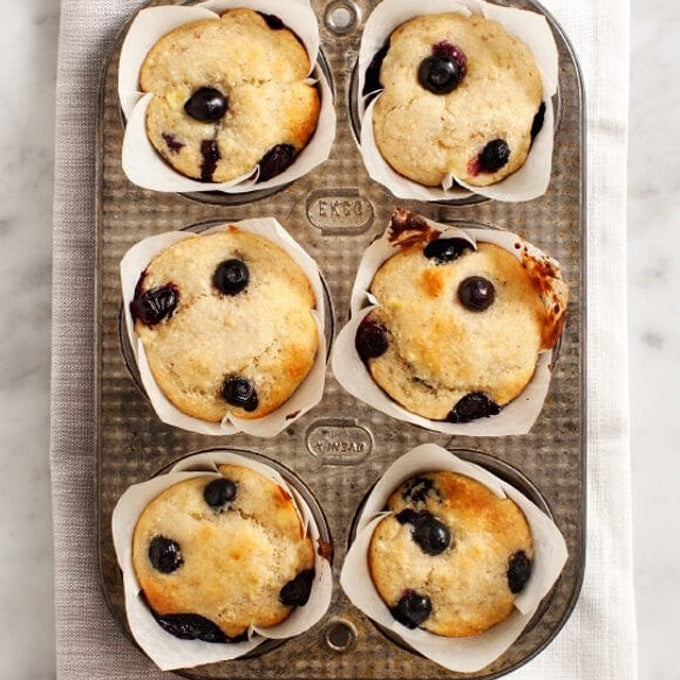 Yield: 12 muffins

1¾ cups Pamela's Baking & Pancake Mix
¼ teaspoon cinnamon
¼ teaspoon salt
1 cup mashed banana (about 3 bananas)
½ teaspoon vanilla
4 tablespoons melted coconut oil
½ cup raw cane sugar
2 eggs, beaten
½ cup blueberries
Preheat oven to 350 and prepare a 12-cup muffin tin with papers or cooking spray.
In a large bowl mix together Pamela's Baking Mix, cinnamon and salt.
In a medium bowl, mash the bananas, then whisk in vanilla, coconut oil, sugar and eggs. Pour the wet ingredients into the bowl with the dry ingredients and use a wooden spoon or spatula to mix until combined.
Fold in blueberries and scoop batter into 12 muffin cups. (I use a ¼ cup measuring cup)
Bake 16-20 minutes or until a toothpick comes out clean.