These gluten free black forest pancakes are layered with sweet breakfast flavor. Super chocolaty pancakes paired with cherries and vanilla whipped cream. Recipe and photo courtesy of Nutmeg Nanny.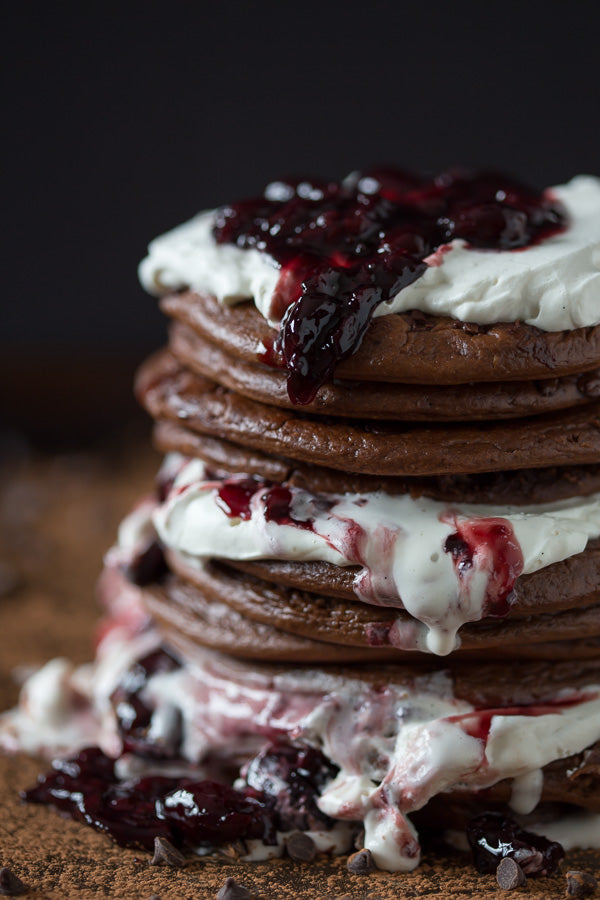 Yield:

For Pancakes

1/4 cup unsweetened cocoa powder
1/4 cup brown sugar
1½ cup sweetened vanilla soy milk
2 tablespoons vegetable oil
½ cup chocolate chips

For Cherries

1½ cups frozen cherries
2 tablespoons kirschwasser
3 tablespoons brown sugar
2 teaspoons cornstarch

For Whipped Cream

1 cup cold heavy cream
2 teaspoons vanilla bean paste
For pancakes:

Pre-heat a non-stick griddle to medium heat. In a large bowl whisk together pancake mix, cocoa powder and brown sugar. Stir in soy milk and oil.

Apply batter to your hot griddle and sprinkle the top with chocolate chips. Cook until the bottom of the pancake is set around the edges and the top of the pancake starts to bubbly slightly. Flip and cook until the other side is fully cooked.

Serve hot with cherries and whipped cream.

For cherries:

In a small pot add cherries and kirschwasser. In a small bowl mix together brown sugar and cornstarch. Add to cherries.

Cook over low heat until the mixture cooks down and begins to thicken. Once it's thick (about 10-15 minutes) remove from the heat, cover with a lid and keep warm.

For whipped cream:

Add ingredients to a bowl and whip with an electric mixer until fluffy.