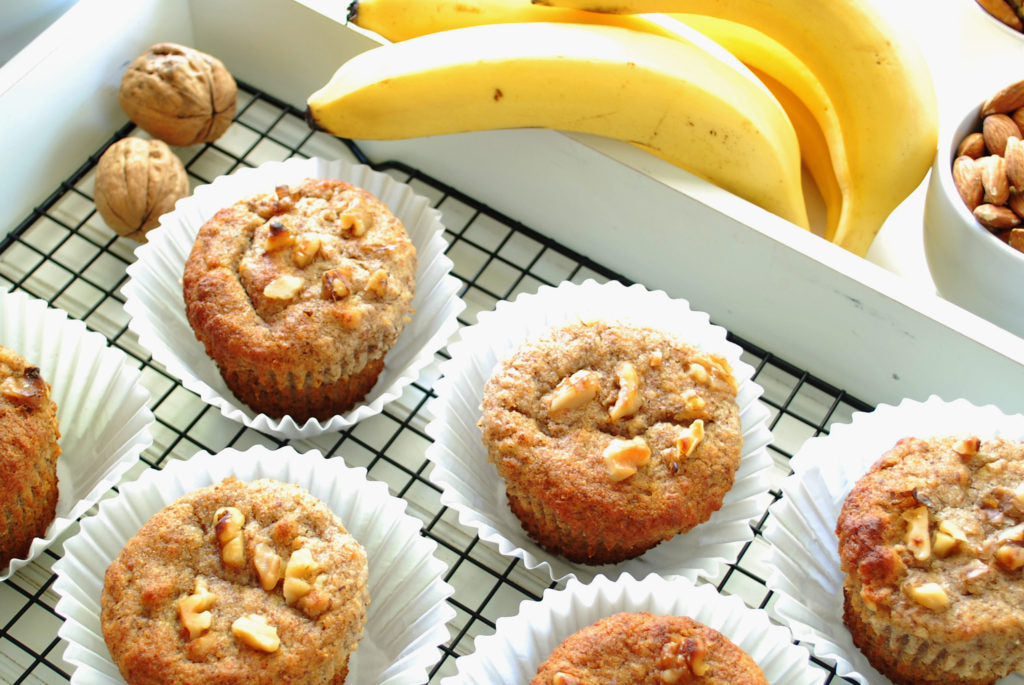 Yield:

1¼ cups Pamela's Nut Flour Blend (135 gr.)
¾ cup Pamela's All-Purpose Flour Artisan Blend (105 gr.)
1 TBSP baking powder
½ tsp salt
2 eggs, large
1 cup milk, or other liquid of choice
¾ cup sugar, brown, white or coconut sugar
½ cup oil or butter, melted
1 tsp vanilla
¼ tsp nutmeg (Optional)
½ cup semi-ripe banana (1 large), black spots perfect, not squishy
½ cup walnuts, toasted and chopped
Pre heat oven to 400° with rack in the center of oven. Line a 12 cup muffin tin with cupcake papers and spray well. Set aside.

On a small plate or board, smash banana with a fork; leave some small pieces. In a medium bowl, whisk together all dry ingredients. In a larger bowl put together all liquid ingredients, except banana and walnuts, and mix well. Add dry ingredients to wet ingredients and mix only until blended. Add banana and nuts and mix again.

Scoop into muffin cups and bake for 18 to 25 minutes or until center is firm to the touch (toothpick test does not work with this recipe).

© Pamela's Products, Inc.